Adam Lasher is a Top 24 semi-finalist on American Idol 2016. The Top 24 for season 15 were revealed in American Idol spoilers in December via a leaked list from The Idol Pad. This season's Top 24 contestants are an uneven mix of guys and girls, with 13 female competitors, and only 11 male hopefuls.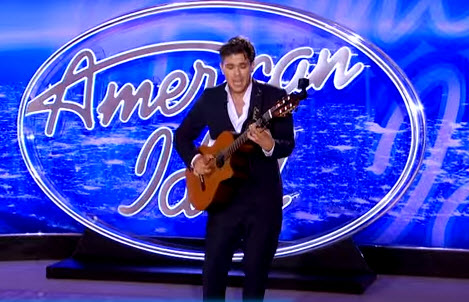 Social Media: Website – YouTube – Facebook – Facebook 2 – Twitter
Adam Lasher American Idol audition video.
Fans who watched last season of Idol may remember Adam Lasher, who made it through to Hollywood Week, but was eliminated before making it through to the next round. Frankly, we think the American Idol judges made a mistake with this guy, and we are very glad to see him back again for the final season. Even judge Harry Connick Jr. called him a "superstar" and we are hopeful he'll make it all the way to the finalist round this season.
Adam Lasher is the nephew of musical great Carlos Santana, and the talent apparently runs strongly in this family! He is not only a beautiful vocalist, but an accomplished all around musician and songwriter. He auditioned for season 14 — with a broken thumb no less! — performing his own original composition, "These Shoes." After his audition, Adam told the Los Angeles Times he was moved to find he had inspired fellow sufferers of Type 1 diabetes and that helped keep him grounded during his first run on the series.
Even though he is obviously screaming with talent, Adam doesn't rely on just his natural gifts alone. He attended the Berklee College of Music in Boston and studied guitar and musical theory, according to the Los Angeles Times. He also formed his own group, the Adam Lasher Band, mixing rock, Latin and blues into a unique sound. As Adam says on his Facebook page, "genres are dead" when it comes to music, and he doesn't like to have his music stuck into a set category.
Adam Lasher YouTube Videos
Stay tuned with us here at AmericanIdolNet.com all season long as we bring you the latest news on American Idol contestant Adam Lasher. We wish him luck on making the finalist round!