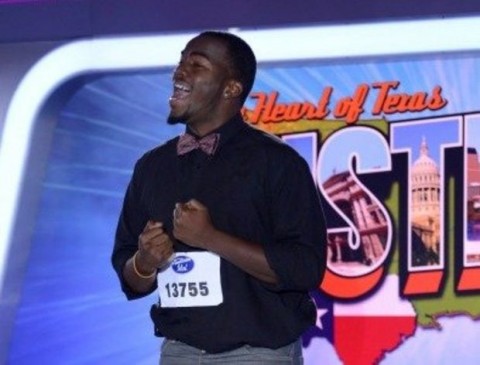 American Idol 2014 auditions continued Thursday night in Austin and in San Francisco. And things weren't as sunshine and rainbows as the first night. The judges actually said no to a lot of people. And not just the joke auditions. They actually said no to some people I thought would get tickets to Hollywood.
Let's take a look at the standouts.
Jesse Roach, "Do Ya." Looks like we get our first legit singer-songwriter of the season. And she's good. Her performance was effortless and she's got a look a vibe that works.
Montage:
Steven Curd. We didn't get a full audition, but his voice was tender and sweet.
Anna Melvin. I hated her song choice and her voice annoyed me.
Ryan Clark. I liked this guy's tone and his confidence.
They all made it to Hollywood.
Jamiah Malik, Original Song. He's got a nice look and a good voice and obviously some talent with his song writing. But the judges didn't say yes. I'm still going to include him in the standouts because I liked him.
Megan Miller, "Last Name." She's got a good solid country voice. But I find her look sort of generic so I don't see her actually making it far on the show. But I think she deserves a shot at Hollywood.
Spencer Lloyd. He's got the look and he's got the personality that will make fans go a little crazy. I don't love his voice and neither did Harry, but I understand why he moves on.
Marlon Lindsey, "A Change is Gonna Come." He's got soul and power and technique. Oh, and did I mention how effortless it was? Great singer.
T.K. Hash, My Song is …dark fallout boy ……. I think this guy has a great look and a great presence, but I wasn't thrilled with his audition. I think there's a great performer in there, but I'll need to see him with a band.
Going to Hollywood: Yes
Tristen Langley, "Santeria." The son of Season 1 third-place finisher is probably better than she was. I loved his audition. And he's got a good look and clearly a good story. Like Jennifer called it, it's the second generation of American Idol.
John Fox, "To Make You Feel My Love." This guys has such a sweet and natural tone. I think his audition was my favorite from the night. I see why they opened the show with it. And I'm glad they went back to it because I wasn't sure they were ever going to.
Rachel Rolleri, "Stay." Wait. Maybe this is my favorite audition of the night. Oh whatever, it was good. And I think the show could use her. Do the judges?
Emmanuel Zidora, "I Believe in You in Me." This guy seems cray. And he's got a great and soulful tone, so we can expect him to get a lot of airtime in Hollywood Week, I think.
Caitlin Johnson, "Something's Got A Hold On Me." I like her. I'm not sure why Harry was so hard on her. Jennifer and Keith decided to give her shot. But I'm not sure she'll get very far.
David Luning. Another original performance and another favorite of mine. I really, really, really liked this guy. He's a complete natural entertainer and clearly a true musician. Oh, and a White Guy With A Guitar. Ha.
Selena Moreno, "Try." I'm not sure how I feel about her. I think she was good but not great. Let's see how her twin does.
Sierra Moreno, "1+1." Her song choice was better. And by better, I mean easier to fake if you can't really sing. So she has a better shot at getting through. But really, will they only send one through and not the other?
Going To Hollywood: Selena, not Sierra. Not what I expected. But the opposite usually happens with what I think.
Brianna Oakley, "Stay." I don't remember her from before at all and I think I know why. I find her very dull. But I guess she has a pretty good voice. But they seem to love her.
Going to Hollywod: Of Course.
Adam Roth, "Hallelujah." I don't know if I liked this performance or not. It was definitely weird like the judges said.
By the end of night two, 79 contestants are headed off to Hollywood. Who do you think shined the brightest from night two of American Idol 2014 auditions?