Who went home from the Hollywood groups round will be revealed tonight on American Idol Season 13. Last night's left us hanging just as the first group was getting ready to perform so let's see where the show takes us next!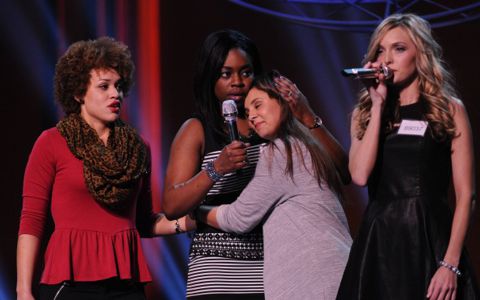 After last night's frantic pace and passed over eliminations we're hoping for a clearer recorded of who was sent on to the next round and who was cut short of their goal of winning American Idol. I'll be updating this list just for results, but check out our live recap of tonight's Hollywood Week episode for videos and recaps.
As the first performances begin JLo reveals that at least half of the singers will be cut. Wow! Let's see who makes it and who goes home tonight.
Hollywood Week – Groups – Partial List of Eliminated Contestants:
Tony Foster Jr.
Alyssa Siebken
Madisen Walker
Keith London
Austin Percario
Stephanie Petronelli
Adam Roth
Tequila Wilson – self-elimination
Tyler Ahlgren
Matthew Hamel
Allie Odom
John Fox
Stephanie Hanvey
Terrica Curry
Carmen Delgina
Hollywood Week Group Round tonight on American Idol: