Looking for the latest American Idol 2016 results, news and recaps? Welcome to your source for all things American Idol season 15! As we do every year, American Idol Net delivers all your American Idol spoilers, news, gossip, updates and more all season long. Be sure to join us on Facebook, Twitter, and by Newsfeed for the new season!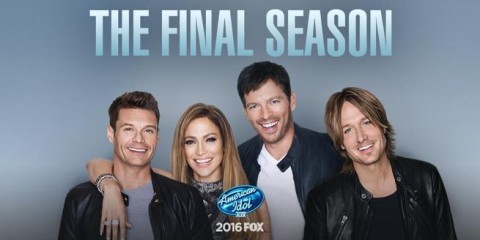 American Idol judges Jennifer Lopez, Keith Urban, and Harry Connick Jr. are back, along with host Ryan Seacrest. Big Machine Label group's Scott Borchetta will also be returning for the final season as mentor. Executive Producer Per Blankens, however, will not be returning. Instead, Nigel Lythgoe will be returning to produce the last ever edition of the show.
American Idol 2016 Spoilers:
Our policy is to keep American Idol spoilers information out of our headlines on the site and on our Facebook and Twitter pages. However, for our fans who want those American Idol 2016 spoilers as soon as they can get them, no worries! We will have all the latest for you in our spoilers section — we'll work to keep the headlines friendly for those who don't want them!
Check out our most recent American Idol 2015 results, spoilers, news and updates here!
American Idol 2016 Schedule:
The American Idol schedule underwent a drastic change in 2015 to cut it down to just one night per week partway through the season. Looks like we'll be having more of the same for season 15.
Stay tuned with us for all the latest American Idol results, spoilers, news, recaps, and more all season long when season 15 kicks off on January 7th, 2016.
Check out the latest American Idol results headlines for season 15 below!