American Idol 2016 auditions are now over for the 15th and final season! The in-person American Idol auditions kicked off in July, 2015, and hit five major cities across the U.S. In addition, the American Idol 2016 auditions bus roamed about the country finding great singers in small towns across America.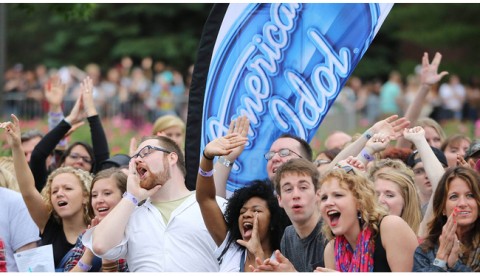 From what we've seen so far in American Idol spoilers about the Top 51, it looks like the judges found some amazing talent! Seriously, we don't think we've seen a crop of hopefuls so talented for years. Of course, they couldn't do less than bring out the best for the final season!
Check out some preview videos from the auditions for season 15 below, and find more at the American Idol YouTube channel.
Although American Idol auditions for 2016 are over and the contestants are already through Hollywood Week and beyond, you can check out where the hopefuls were selected from for season 15 below. Stay tuned with us for full coverage of the American Idol 2016 auditions when the new season kicks off on January 6th on FOX!
AUDITION DATES AND VENUES
5/13/15 – Los Angeles, CA Dolby Theatre
7/10/15 – Denver, CO – Denver Coliseum
7/22/15 – Savannah, GA – Martin Luther King, Jr. Arena
8/2/15 – Philadelphia, PA – Liacouras Center
8/8/15 – Little Rock, AR – Verizon Arena
9/15/15 – San Francisco, CA – TBD
BUS TOUR STOPS
6/18/15 – Seattle, WA
6/18/15 – Providence, RI
6/20/15 – Baltimore, MD
6/22/15 – San Diego, CA
6/22/15 – Pittsburgh, PA
6/24/15 – Tucson, AZ
6/25/15 – Indianapolis, IN
6/26/15 – Santa Fe, NM
6/28/15 – Athens, GA
6/29/15 – Tulsa, OK
6/30/15 – Oxford, MS