Emily Brooke is a Top 24 semi-finalist on American Idol 2016. The Top 24 for season 15 were revealed in American Idol spoilers in December via a leaked list from The Idol Pad. This season's Top 24 contestants are an uneven mix of guys and girls, with 13 female competitors, and only 11 male hopefuls.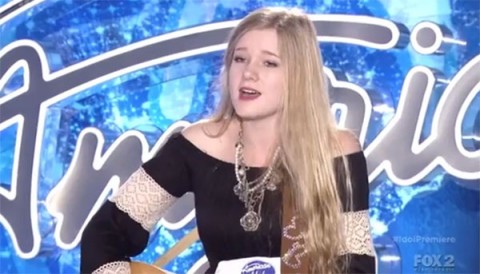 Social Media: Website – YouTube – Facebook – Twitter – Instagram
Emily Brooke American Idol audition video.
We were very sad to see Emily Brooke eliminated during the group round of the American Idol auditions in season 14. Despite her obvious talent, she struggled after making it to Hollywood, and having to battle food poisoning while trying to perform for the judges didn't help. However, Emily didn't feel bitter about being cut, calling her time on the show "the most amazing experience" of her life. She loved it so much, in fact, that the 16-year-old singer from Florida decided to give it another go for season 15.
In her original audition for season 14, Emily Brooke wowed the American Idol judges with her sweet, unique vocal tone and natural stage presence. Jennifer Lopez told her she was "pretty great" and Keith Urban said he thought she had a lot of "raw talent" in there. Emily quickly became one of the most talked about early contestants on social media and fans had high hopes she would go on to become a finalist. Unfortunately, Hollywood Week took a heavy toll on the young singer and her dreams were dashed. This time around, however, she's already made the Top 24 and hopefully will make it all the way to the finalist round!
During her very young life so far, Emily Brooke has already established herself as a talented songwriter, vocalist, and guitar player. According to CMT.com, she has performed on stages with major country artists such as Brad Paisley, Luke Bryan, and Jason Aldean. Although she hails from Wellington, Florida, she considers Nashville, TN to be her second home. Country legend Martina McBride has complimented Emily by saying she has "something special" after hearing her perform. We agree that this lovely young lady truly does have more than her fair dose of talent.  Now it's just all about seeing if she can translate that into success on the American Idol 2016 stage in her second time around.
Emily Brooke YouTube Videos
Stay tuned with us here at AmericanIdolNet.com all season long as we bring you the latest news on American Idol contestant Emily Brooke. We wish her luck on making the finalist round!