Kory Wheeler is a Top 24 semi-finalist on American Idol 2016. The Top 24 for season 15 were revealed in American Idol spoilers in December via a leaked list from The Idol Pad. This season's Top 24 contestants are an uneven mix of guys and girls, with 13 female competitors, and only 11 male hopefuls.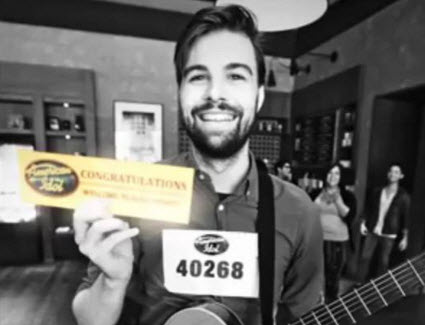 Social Media: YouTube – Facebook – Twitter – Instagram
Known from his season 14 audition as the Bongo Java barista, Kory Wheeler is back again this year in hopes of finally making it all the way to the finalist round.
Kory has a very interesting story of how he first snagged an audition last year, according to the Fentress Courier. He was actually working a shift at a coffee shop in Nashville when an American Idol producer came in for a drink. Kory boldly told the producer that "it'd be a really cool story if you let me come audition." They agreed, and Kory ended up landing a Golden Ticket to Hollywood.
Kory was one of those early fan favorites last season that you hope will make it all the way to the end, but sadly he didn't get there. Now he has a second chance to prove he is finalist material, and he's already well on his way as one of the guys in the American Idol 2016 Top 24.
We've been amazed this year at how many of the Top 24 have at some point raised quite a lot of funds from their fans for various endeavours. Kory Wheeler is yet another young musician who managed to run a successful Kickstarter campaign to drum up $11,000 to record an EP. Since he started his Kickstarter after being on American Idol, he did have a little extra oomph for his marketing efforts. The resulting EP is available on iTunes.
Kory Wheeler YouTube Videos
Stay tuned with us here at AmericanIdolNet.com all season long as we bring you the latest news on American Idol contestant Kory Wheeler. We wish him luck on making the finalist round!