Lee Jean Jr. is a Top 24 semi-finalist on American Idol 2016. The Top 24 for season 15 were revealed in American Idol spoilers in December via a leaked list from The Idol Pad. This season's Top 24 contestants are an uneven mix of guys and girls, with 13 female competitors, and only 11 male hopefuls.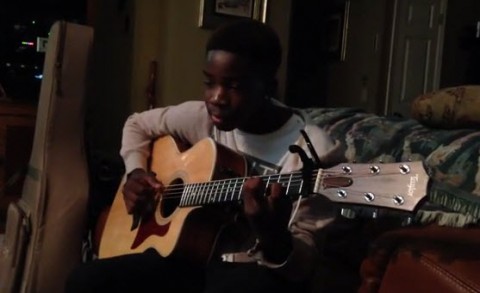 Social Media: YouTube – Facebook
Before his American Idol audition for season 15, we learned Lee Jean had a hard road to get to where he is now after losing his brother in a tragic accident. But he was determined to live up to his brother's belief in him that he would grow up to do great things. So that's why he decided to try out for the show.
Bluffington, SC resident Lee Jean Jr. is just getting started in his musical career, so it is a big deal that he made it on to the last season of American Idol. While most of the Top 24 this year seem to have a lot of years of performing (and even some big gigs & record deals) under their belt, Lee Jean is still in high school and has mostly been working small, local gigs with duet partner Hannah Lyndsay Lane.
As a duo, Lee and Hannah perform as an "acoustic pop duo," and go by the name Black and Blue. Once again we're a bit sad that American Idol doesn't allow duos like The Voice or America's Got Talent does, because it would have been fun to see these two compete together. On her ReverbNation profile, Hannah calls Lee Jean Jr. her "best friend" and graciously wishes him luck on his American Idol journey.
From his Facebook page, we know that Lee Jean is fond of taking selfies, is a fan of paintball and the Kansas Jayhawks, and has a very wide range of musical tastes. Among the artists he follows aer Taylor Swift, Bob Marley, Biggie Smalls, Enrique Iglesias, Linkin Park, Wiz Khalifa, Mariah Carey, Katy Perry, and The Beatles. Now that is a diverse range of musical influences! We can't wait to see what kind of tunes he'll be performing for us on American Idol 2016.
Lee Jean YouTube Videos
Stay tuned with us here at AmericanIdolNet.com all season long as we bring you the latest news on American Idol contestant Lee Jean Jr.. We wish him luck on making the finalist round!