MacKenzie Bourg is a Top 24 semi-finalist on American Idol 2016. The Top 24 for season 15 were revealed in American Idol spoilers in December via a leaked list from The Idol Pad. This season's Top 24 contestants are an uneven mix of guys and girls, with 13 female competitors, and only 11 male hopefuls.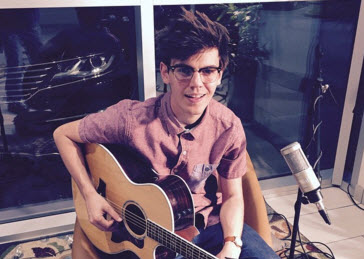 Social Media: YouTube – Facebook – Twitter – Instagram
MacKenzie Bourg American Idol audition video.
The final season of American Idol 2016 seems to have quite a few Top 24 contestants who have previously appeared on other reality TV talent shows. MacKenzie Bourg is perhaps one of the most well known of these show hoppers. He previously competed on The Voice 2013 and was an early fan favorite right from his blind audition, even though only one judge turned their chair for him.
Singer-songwriter MacKenzie Bourg made the Top 20 of The Voice, but was booted the next week because the judges said they wanted to "see more" from him. Even though he didn't make it to the finals, just getting on the show in the first place was a major victory for the young singer, who battled through congestive heart failure caused by a virus the previous year, according to TheAdvertiser.com. His recovery, doctors said, was a "miracle."
After his time on The Voice, MacKenzie Bourg released his first single "Everyone's Got a Story, which debuted in the iTunes Pop Charts in the Top 60. He now has two singles, plus a collection of songs from his time on The Voice, available for download. We have some amazing songwriters among the Top 24 semi-finalists this season, including MacKenzie, and we can only hope American Idol will give them the chance to feature some of their original works as they have with former contestants.
MacKenzie Bourg YouTube Videos
Stay tuned with us here at AmericanIdolNet.com all season long as we bring you the latest news on American Idol contestant MacKenzie Bourg. We wish him luck on making the finalist round!