Manny Torres is a Top 24 semi-finalist on American Idol 2016. The Top 24 for season 15 were revealed in American Idol spoilers in December via a leaked list from The Idol Pad. This season's Top 24 contestants are an uneven mix of guys and girls, with 13 female competitors, and only 11 male hopefuls.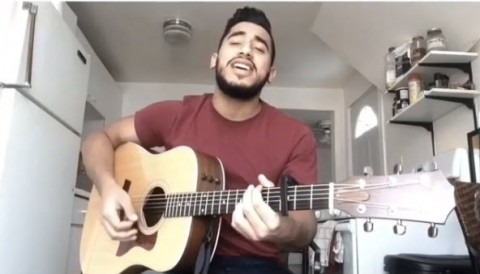 Social Media: Website – YouTube – Facebook – Twitter – Vine – Instagram – Soundcloud
Manny Torres American Idol audition video:
Chicago based Manny Torres has racked up thousands of views on his YouTube videos and listens on his Soundcloud page, and from listening to his gorgeous voice, we can easily hear why. Not only does he sing beautifully, he is also a lovely guitar player, and his original songs are radio worthy right now. Manny calls himself a soul/pop artist on his Facebook page, but we could hear his smooth voice tackling any number of musical styles.
In his bio on MusicPage.com, Manny says his dad is a Pastor and he started off in music playing in the church's youth band. Later, he added guitar and piano to his instruments with help from his father and watching YouTube videos. Eventually he tried singing and really found his true passion. He started off singing in coffee shops and other local joints, and then got up the courage to audition for The Voice. Although he made it far enough to go to California for callbacks and work with The Voice vocal coaches, he just missed out on being selected to audition on the show.
Manny says he is inspired by such musicians as Gavin Degraw, John Mayer, and Bruno Mars and shares some similarities with these artists, but "still has a unique style to my voice." Although he says in several places that he was working on releasing an EP in 2013, we haven't been able to find it online. We're surprised that we didn't dig up any songs at all from Manny Torres available on iTunes yet, considering that he has some very polished tunes recorded on YouTube. Well, we're sure that will change soon after he's made it to the Top 24 on American Idol 2016!
Manny Torres YouTube Videos
Stay tuned with us here at AmericanIdolNet.com all season long as we bring you the latest news on American Idol contestant Manny Torres. We wish him luck on making the finalist round!