Shelbie Zora James Panter, aka Shelbie z, is a Top 24 semi-finalist on American Idol 2016. The Top 24 for season 15 were revealed in American Idol spoilers in December via a leaked list from The Idol Pad. This season's Top 24 contestants are an uneven mix of guys and girls, with 13 female competitors, and only 11 male hopefuls.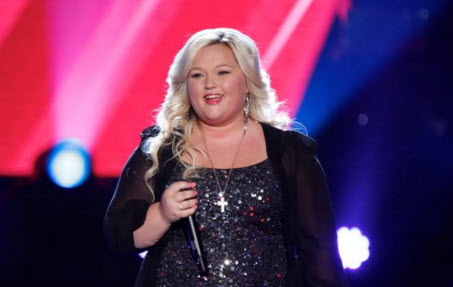 Social Media: YouTube – Facebook – Twitter – Instagram
The American Idol 2016 Top 24 this season reads like a virtual who's who list of former contestants from other reality TV talent shows. Shelbie Zora James is included in this crowd of reality TV repeats as a former competitor on The Voice season 5. Now she's out to conquer American Idol and become a finalist, which she didn't quite manage on The Voice.
Shelbie Z made it all the way into the Top 20 as a member of Team Blake before being eliminated, and even has her own photo gallery over at The Voice website. That's actually quite a successful run to have on another reality TV show before hopping over to American Idol.
Back home in Alabama, country powerhouse singer Shelbie Panter works a day job as a cosmetologist at Shelbie Z. at Mane Attraction, when she's not performing as a professional musician. According to her Facebook profile, she studied acting and modeling at the Barbizon School of Modeling and attended the Jasper Beauty Academy. Shelbie Zora is also happily married to hubby Zak Panter, a fellow Alabama native. Hence the ever evolving and quite long full name she occasionally goes under, Shelbie Zora James Panter. Although for her time on The Voice, she just shortened that all down to Shelbie Z. He's obviously a big fan of his wife, posting lots of links to press for her American Idol auditions on his Facebook page.
Shelbie told the Daily Mountain Eagle that it was her husband's dad who basically blackmailed her into trying out for American Idol after being eliminated from The Voice. She says he offered to fly her and Zak out to Denver for a visit, but only if she would agree to try out for the show. Despite having "never really thought about doing another singing show," Shelbie agreed, and the rest is now history. She says this time around, she is going to try to really enjoy the competition and remember everything about the experience.
Shelbie Zora YouTube Videos
Stay tuned with us here at AmericanIdolNet.com all season long as we bring you the latest news on American Idol contestant Shelbie Zora. We wish her luck on making the finalist round!