Stephany Negrete is a Top 24 semi-finalist on American Idol 2016. The Top 24 for season 15 were revealed in American Idol spoilers in December via a leaked list from The Idol Pad. This season's Top 24 contestants are an uneven mix of guys and girls, with 13 female competitors, and only 11 male hopefuls.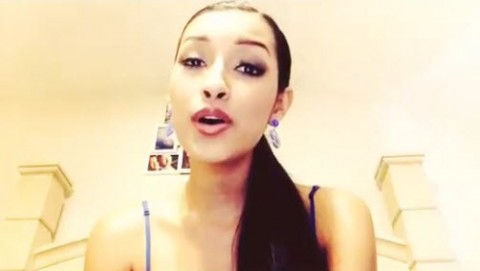 Social Media: Website – YouTube – Twitter – Instagram
Stephany Negrete American Idol audition video.
Like many other American Idol Top 24 contestants this season, Stephany Negrete is no stranger to reality TV singing competitions. Unlike many others, however, she is not a veteran of The Voice or America's Got Talent USA. Instead, she was a contestant on the Spanish language talent show Tengo Talente, Mucho Talente (I Have Talent, Much Talent). The series is basically the equivalent of America's Got Talent in America, and based off of Simon Cowell's original British version of that franchise. As all of the pages we found on the show were in Spanish, we aren't quite sure how far Stephany made it on the series, but we do believe she was a finalist but did not win.
Stephany now lives in El Cajon, California (near San Diego) and recently posted on Instagram that "sometimes our lives have to be completely shaken up, changed, & rearranged to relocate us to the place we're meant to be." Whatever shaking up went on in her life, it has landed her a coveted spot in the American Idol 2016 Top 24 after she auditioned in San Francisco. Stephany also says that she wants to "inspire millions" and to "be the reason someone didn't give up and kept going."
In addition to her solo career, Stephany Negrete is also a member of the girl band Elevé (El LA Vay) (French for "rise") — or at least she was as of the end of 2014. Their website proclaims the group as a "trio of beautiful and intelligent ladies with explosive creativity" modelled after En Vogue, TLC, Pussycat Dolls, and Destiny's Child. From what we've seen in her videos, Stephany shines in both group and solo performances, which no doubt helped her glide through the obstacles of Hollywood Week. We hope she'll light up the stage on American Idol 2016 the same way she did on Tengo Talente, Mucho Talente!
Stephany Negrete YouTube Videos
Stay tuned with us here at AmericanIdolNet.com all season long as we bring you the latest news on American Idol contestant Stephany Negrete. We wish her luck on making the finalist round!