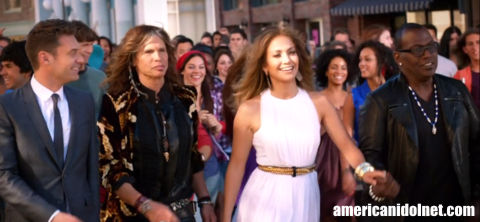 The American Idol 2012 premiere is just one week away! We're about to be hit by a whirlwind of Idol auditions as we get our first official look at this season's hopefuls as the judges begin to hand out the coveted golden tickets to Hollywood. Of course we've already taken a sneak peek at the American Idol spoilers for this season but until we see it air we can't confirm it as 100% accurate.
Don't forget to set your DVRs to catch all THREE episodes the first week of the return of American Idol 2012. We'll have a Wednesday 8PM two-hour episode, a Thursday 8PM one-hour episode, and then a Sunday 10PM ET (7PM PT) one-hour episode. That's four full hours of Idol goodness coming at you very soon.
Make sure you're ready for the brand new season of American Idol by joining us on Facebook and Twitter for the latest updates, results, and spoilers all season long.