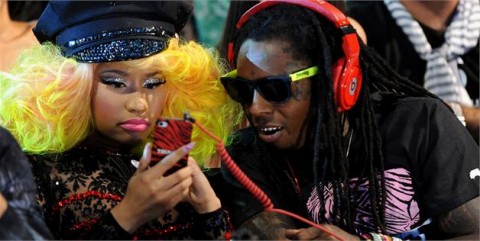 Apparently new American Idol 2013 judge Nicki Minaj is embarrassed of herself on the show or embarrassed that she's on the show because she's told her mentor Lil Wayne to avoid watching.
OK, maybe she just knows Lil Wayne wouldn't be into a bunch of young people thinking they're going to be the next big thing. I get that. But it's not exactly the best PR for the show.
"When I talk to her (she) always tells me, 'You don't wanna watch that, you're not going to be into it,'" Lil Wayne told the Associated Press. "She knows me. … It's kind of like a catfight where they be going back and forth type of thing, I'm not into all that."
Oh, so it's the bickering she doesn't want him to see. Now that totally make sense. I wish I didn't have to see that part either. I'm not a fan of this season's judges panel at all because of that. Hey Nicki, can I not watch too? Please?
What do you think of the panel? Love them or hate them?