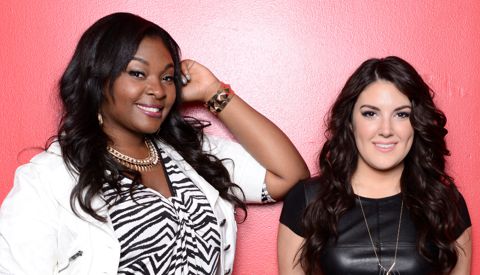 It's American Idol 2013 finale week! So that means the Top 2 will be singing three songs each: one song will be a reprise, another chosen by executive producer Simon Fuller and the last will be the coronation song/first single song.
So while there's no way I could suggest the third song, I can still take a shot at the other two.
So what should the Final Two sing this week?
Kree Harrison
Reprise song: "Up On The Mountain." This was one of the earlier moments where Kree became a real contender. I think it would make a great finale song, so maybe she'll pick this one for her reprise song. But I just stumbled across "Stars" from Hollywood week. That was a great performance, but probably too early a performance to reprise.
Simon Fuller's Choice: It really needs to be something with some power. I'm going to go with something by Reba. Like "Fancy." I would like to hear Kree sing a story-telling song.
Candice Glover
Reprise song: "Lovesong." Actually, Candice had three really great performances she could choose from: "Lovesong," "I Who Have Nothing," and "Somewhere." I think the smartest move, however, would be to do The Cure's "Lovesong." That song caught some of the highest praise of the season. But my favorite all season from Candice was "I Who Have Nothing." Anything she chooses will be a smart move.
Simon Fuller's Choice: Something big. This song needs to be upbeat since the other two songs are sure to be ballad-ish. How about "River Deep Mountain High" or something else by Tina Turner? Yes, please.
What do you think Kree and Candice should sing for their final performances on American Idol 2013?