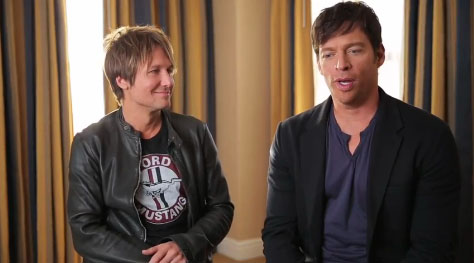 How do they do it? How do the American Idol 2014 judges decide who goes to Hollywood and who doesn't?
We just watched as 79  golden tickets were handed out to American Idol hopefuls this week, but there's a lot that goes into how that happens. Idol judges Keith Urban and Harry Connick Jr. sat down to discuss some of the things that have to line up to find the right people. Or in other words, "how do you judge American Idol?"
"Sometimes it's best just to cut to the chase and say 'I didn't like that,'" Harry says." I guess it's tough love, but I think honesty has to be the source of every comment. You have to be honest and specific."
And agreeing with each other has to be a part of it, too, Keith said. Luckily for this trio, their chemistry has them all on the same page. Most of the time.
"I think the three of us came in with such a fluidity," Keith said. "The three of us really just clicked. I couldn't wait to get behind the desk."
Check out the video below to find out what else they had to say about judging American Idol.