The American Idol 2014 premiere is just over a month away and the promos are flying out fast and furious. In the latest American Idol spoilers promo for season 13, producers are once again pushing the show as the launching point of superstars like Kelly Clarkson and Carrie Underwood.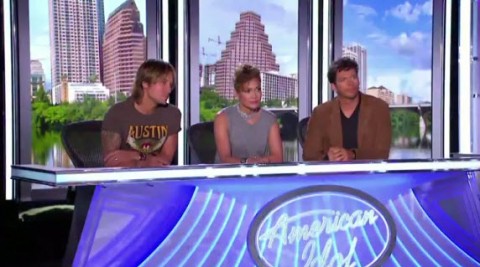 "Before the platinum records," the latest
American Idol season 13
promo proclaims. "Before the sold out tours… before taking home Grammys… The next superstar will start here." Unfortunately, we only get a tiny glimpse of one of those potential superstars singing in this video promo. We don't know her name, but she did sound mighty fine and we look forward to seeing her full
American Idol 2014
audition.
Also in the video, we get a bit more screen time for
American Idol
judges Jennifer Lopez, Harry Connick Jr., and Keith Urban, as well as some random hopefuls flashing across the screen. Host
Ryan Seacrest
also pops up to deliver the line, "
American Idol
is back!" while oddly looking totally exhausted. He also appears to be wearing pink lipstick. What's up with that Ryan?