Trent Harmon and La'Porsha Renae are the last two American Idol finalists ever, and so well matched, it was nearly impossible to predict who would win season 15! Just watching them together in a final duet on the American Idol 2016 finale made us wish they could both come out as winners.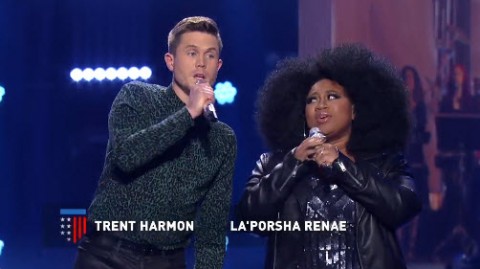 Even though there can only be one American Idol winner, we loved getting to see them share the stage for this duet one last time. Especially since it's obvious that they have become fast friends over the course of the competition, no matter who ended up with the winner's crown! Their BFF chemistry on stage, especially on their finale duet of "It Takes Two," is just so obvious!
It doesn't get better than these two! @laporsharenae and @TrentWHarmon were made for this. #IdolFinalehttps://t.co/n2TMvmZa4Z

— American Idol (@AmericanIdol) April 8, 2016
We can only hope that after everything is all said and done, maybe these two might collaborate sometime in the future. Wouldn't you love to hear some more future Trent and La'Porsha duets? We would!