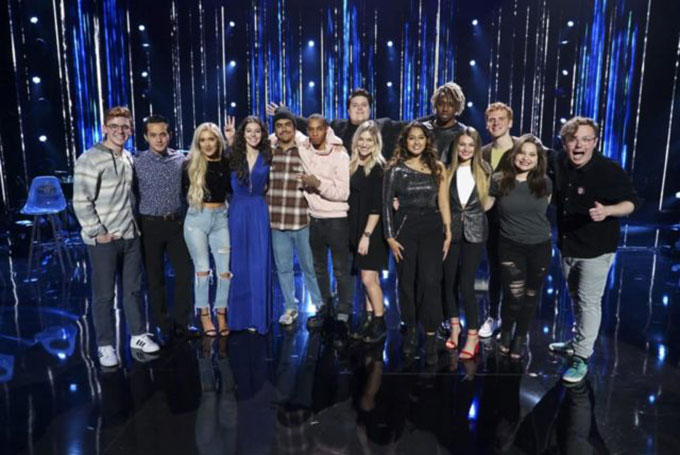 Tonight on American Idol 2019, the Top 14 will be singing for your votes, America. So it's up to you to decide who makes it to the Top 10. OK, so it's mostly up to you. You pick seven, the judges pick three.
Anyway, we have the song spoilers for you so you don't have to be surprised tonight!
American Idol 2019 Top 14 Song Spoilers
Alejandro Aranda, "One Dance" by Drake, WizKid and Kyla
Alyssa Raghunandan, "She Used To Be Mine" by Sara Bareilles
Ashley Hess, "Fix You" by Coldplay
Dimitrius Graham,  "Perfect" by Ed Sheeran
Eddie Island, "Bennie And The Jets" by Elton John
Evelyn Cormier,  "The Middle" by Jimmy Eat World
Jeremiah Harmon, "We All Fall In Love Sometimes" by Elton John
Laci Kaye Booth, "I Miss You" by Blink-182
Laine Hardy, "That's All Right (Mama)" by Arthur Crudup/Elvis Presley
Madison VanDenburg, "Fallin'" by Alicia Keys
Riley Thompson, "Suds In The Bucket" by Sara Evans
Uché Ndubizu, "Finesse" by Bruno Mars
Wade Cota , "Trouble" by Ray LaMontagne
Walker Burroughs, "Climb Ev'ry Mountain" from "The Sound Of Music"
Thanks, as always to The Idol Pad for the awesome spoilers.
These are some interesting choices. Some are pretty boring choices, so it'll be interesting to see how they change things up to make the performances not boring. My favorite song choices are Laci's Blink 182 song and Jeremiah's Elton John song. The others are all pretty meh for me.
What do you think of the song choices?
Be sure to join us here tonight for our recap of this week's episode. Also, follow us on Facebook and Twitter so you don't miss any of our American Idol recaps, results, rankings and spoilers. We will be he giving you full coverage all season long.