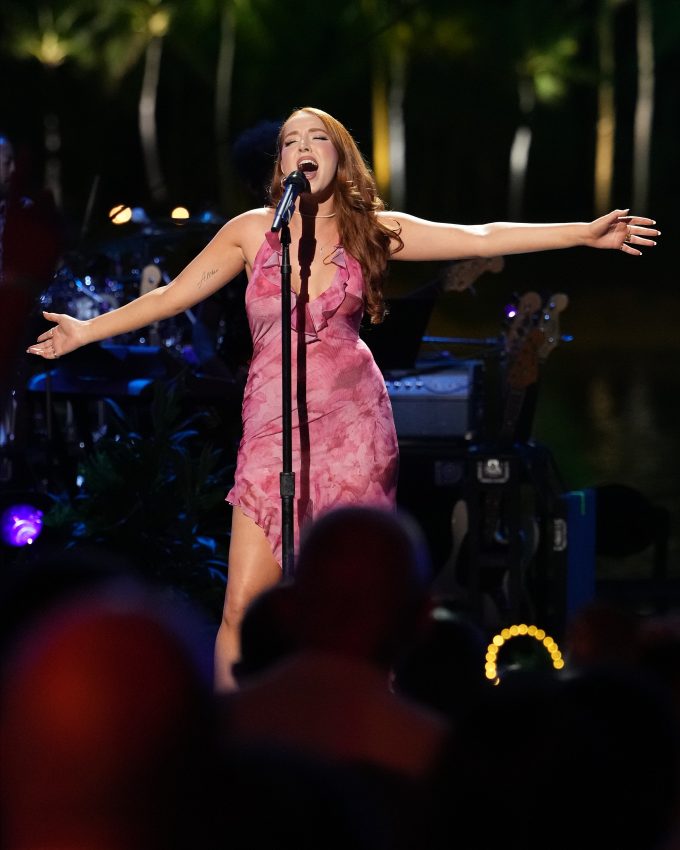 Every year the American Idol judges and Ryan Seacrest claim that this is the best year of Idol contestants ever. It makes sense because it's a way to get people to tune into the show and see if the performances really meet the high expectations. However, let's be honest, every year isn't the best year of American Idol contestants ever. However, American Idol 2023 may be, in fact, one of the best years of Idol contestants ever.
I am constantly impressed by the level of talent and performance skills of these participants. The Top 26 American Idol contestants have really proven how exciting they are as performers and how talented they are as singers and "stylists." On the Sunday American Idol 2023 episode, we saw so many great performances that it was hard to pick just seven that stood out the most.
The Monday American Idol 21 performances were a little easier to narrow down to seven, but these Idols are really such amazingly talented individuals. Whoever ends up winning will be deserving of their win and I'm sure many others will have careers beyond the American Idol stage.
Let's talk about my favorite performances from the American Idol 2023 top 26 Monday night performances.
Olivia Soli "Emotions" by Mariah Carey
I think Olivia Soli was another American Idol contestant that I didn't really pay much attention to during her Idol journey. This was a mishap on my end because she's fabulous. Her performance of "Emotions" by Mariah Carey has made her one of my favorites this season. She was able to really showcase her vocal abilities, because do you know how hard it is to cover a Mariah Carey song and do it justice?! She absolutely killed it. 
Olivia had something to prove with that performance and she proved it, sold it, and left us wanting more. 
Wé Ani "Edge of Midnight" by Miley Cyrus featuring Stevie Nicks
Wé Ani is someone who really knows the importance of song choice. "Edge of Midnight" by Miley Cyrus couldn't have been a more perfect choice to showcase her vocals and create a memorable experience for the viewers. The song fits her voice and allows Wé Ani to have her rocker moment. 
The song helped showcase Wé Ani's vocal versatility and gave her the entertainment factor. She can perform any genre of music really well. 
Michael Williams "Tuesdays" by Jake Scott
I'll admit that during Michael Williams' audition, though I thought it was good, I wasn't understanding the hype surrounding him. However, after his performance of "Tuesdays," I understand his appeal. He gives off lead singer of boyband vibes and I mean that in the best way. Boybands are so popular for a reason. He has a charm when he sings and a gentleness to his voice that makes everything he sings seem earnest. 
You believe him when he sings. His voice and quality have the ability to make men and women laugh giddy as they hear him. 
Nutsa "Paris (Ooh La La) by Grace Potter and the Nocturnals
You can tell by this performance that Nutsa has grown up performing. It just comes so naturally to her. What makes this performance of "Paris (Ooh La La)" is how Nutsa delivers it with such ease. 
Nutsa wants to win American Idol 2023 and she's going to give it her all to make it happen. I wouldn't be surprised if she makes the top 10 or even the top 5.
Tyson Venegas "It Will Rain" by Bruno Mars
Tyson Venegas starts "It Will Rain" off so strongly but he does lose some of his strength when he starts to play to the crowd too much. However, his start is so strong that you can kind of forgive some of his vocal missteps. 
Tyson is also so young that you genuinely just have to be so impressed about his level of talent right now. He'll definitely be someone that just gets better with practice and as he becomes more comfortable on the stage.
Megan Danielle "The Chain" by Fleetwood Mac
Megan Danielle's cover of "The Chain" by Fleetwood Mac is one of her best performances thus far. I think it proves that Megan's voice works best with folky or rockish songs. I think she should try to sing more of those during her live rounds. Those are the sweet spots for her vocal abilities.
Megan really came alive during this performance. It's a moment that will help cement Megan in the audience's memories. 
Marybeth Byrd "Heart Like A Truck" by Lainey Wilson
Marybeth Byrd is the American Idol contestant that feels most like someone who has been in the business for a while. I don't think "Heart Like A Truck" was or is Marybeth Byrd's best Idol performance thus far or in the future, but Marybeth manages to sound good even when she's not quite at her best.
Her voice fits perfectly in the country genre and "Heart Like A Truck" feels made for her. She starts off very strong vocally but gets a little shaky during some of the higher notes. Despite her tiny hiccups, it's still a dynamic and entertaining performance. 
Let us know your favorites in the comment section. 
Add us on Facebook and Twitter for all things American Idol 2023.