American Idol season 8 finalist Scott MacIntyre has been given the gift of life for the second time. The 29-year-old singer was diagnosed with kidney failure when he was a teenager. He received his first kidney transplant when he was 22, but announced last October he needed a second transplant or he only had six months to live.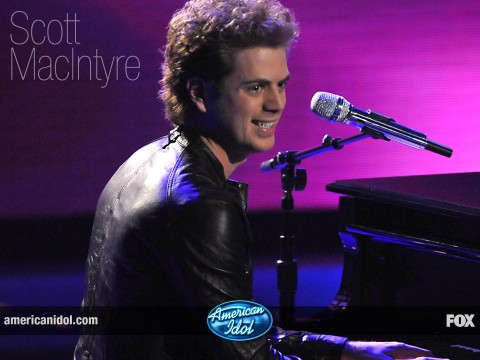 "Hey everyone, I have some difficult news to share about my health," Scott MacIntyre posted on his Facebook page last fall. "After 7 years living with my transplanted kidney, I recently found out that I am in need of a second transplant. Please keep my wife and me in your prayers during this uncertain time."
The first kidney the American Idol star received came from his college piano teacher's wife, according to MJsBigBlog.com.
"I'm so grateful to my first kidney donor for these past seven years of my life," MacIntyre said. "Without that live-saving gift, I would have never been on American Idol, married my wife, or been able to share my story with so many people around the world. Unfortunately, transplanted kidneys can't last forever, and now I'm facing the same life-threatening illness once again."
The average wait time for a kidney donor can be three to five years, but it was estimated that MacIntyre might only last another six months without a transplant. Amazingly, an anonymous matching donor was found in time to save the young singer's life once again. The kidney was offered up by a living donor who had heard about MacIntyre's plight on the radio and went in to be tested as a match.
"I am so grateful to have received the gift of life through organ donation for the second time," MacIntyre said, according to People magazine. "I am truly humbled that a stranger would give themselves to me in this way. I want to thank every person who offered to be tested as a potential donor for me."
In addition to his kidney issues, MacIntyre also suffers from Leber's congenital amaurosis, a disease that has left him with only a very small tunnel of vision. Despite all of his medical obstacles, however, he refuses to give up on his musical ambitions. He released his first full length Christmas album in November, 2013 and continues to perform and work on new music whenever he can.