A former American Idol finalist will shortly be battling it out in an entirely new television competition. American Idol season 8 alum Jasmine Murray is set to compete in Miss America 2014 this fall. We are pretty sure we know what she'll be doing for the talent portion of the show!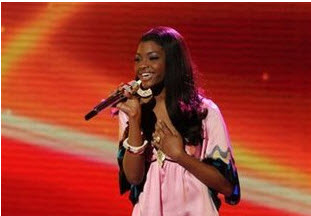 Jasmine Murray, 22, was crowned Miss Mississippi 2014 at the Vicksbug Convention Center this past weekend. As the winner of the state pageant, Jasmine will go on to represent Mississippi at the Miss America 2014 pageant on Sept. 14 in Atlantic City, NJ.
The third time is apparently the charm for Jasmine, who was back for her third try at the title this year. She came in first  runner-pu back in 2012. According to The Clarion-Ledger, Jasmine won a $10,000 scholarship for taking the top prize in the Miss Mississippi pageant.
"I'm just so excited and thankful for this opportunity right now," Murray said in an interview after she was crowned. "It's such an honor to represent my state, and it's a privilege. I look forward to promoting my platform, '13 Going on 30: Teaching Girls to Embrace Their Age' on a bigger scale."