American Idol 2014 finalist Sam Woolf was definitely a fan favorite on season 13. He had the girls swooning and the grandmothers cooing during his time on the show. His fresh face, cute smiles, and sweet voice quickly garnered him a legion of fans.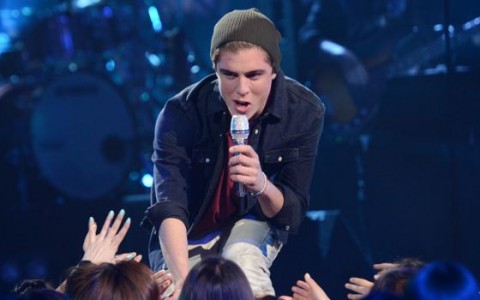 Sam Woolf lovers were among the most vocal commenters on our site here while he was in the competition. His social media followers were rabid and grew by leaps and bounds throughout the season. Now that he's on the American Idol Live Tour, the adoration continues as his fans finally get to see him live and in person.
Sam recently graduated from high school and has been accepted into the Berklee College of Music in Boston. However, now he thinks that perhaps it might be best to delay going to university while he rides his current wave of fame.
Like many American Idol singers before him, Sam hopes that his 15 minutes of fame on the show will lead to a successful career in music and not just be a flash in the pan before fading into obscurity.
"I want to go to California or Nashville and perform my music and see what happens," Sam Woolf told The Tampa Tribune. He hopes after the American Idol Live Tour is over, he can also record an album and see how that goes.
Meanwhile, Sam was able to visit with his friends and family in Florida this week as the American Idol Live Tour swung through the state with shows in Sarasota on Thursday and Clearwater on Friday.