In case you missed the news, the American Idol results schedule is changing this week! FOX has announced they are moving the results show starting to accommodate the Hell's Kitchen season premiere on March 13.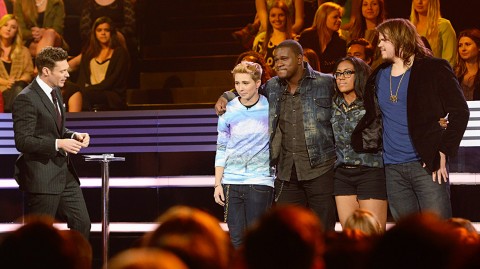 The American Idol 2014 Top 11 performances show on Wednesday will air as usual from 8PM to 9PM on FOX. This week's American Idol 2014 results show on Thursday will also still be an hour long, but will run an hour later from 9PM to 10PM.
Next week on March 17, the voting results show will be sliced down to just a half hour, with the new FOX comedy Surviving Jack premiering at 9:30 PM after Idol. We are guessing there will still possibly be at least one guest performance of some kind on the results shows going forward, but probably not more than that.
Frankly, we're pleased at the results show going to a half hour next week, but we're a bit annoyed at the later hour for the show starting this week. We would have put Hell's Kitchen with Gordon Ramsey and his incredibly foul mouth in the 9PM to 10PM slot more suitable for adult audiences!