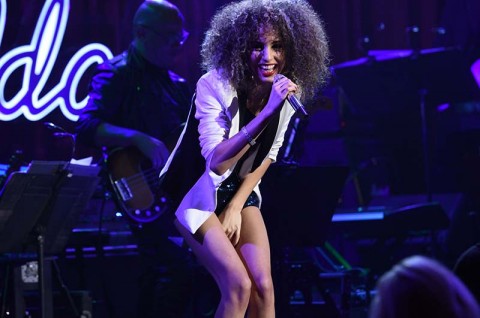 The American Idol 2015 Top 24 was made complete last night as the Showcase Round came to a close. The final 12 spots were filled and we now know who will be singing for our votes next week.
Let's take a look back at how the final night of the Showcase Round played out.
Hollywood Anderson, "Hometown Glory." I don't know what happened to Hollywood. He was so good and so promising and then everything else has been downhill from there. And this performance was once of the worst.
Hollywood's Final Judgment: He's cut.
Joey Cook, "Sweet Pea." I thought this was terribly boring. And of course I thought it was terribly gimmicky. Why can't she just sing? Why does she have to sound quirky and cute? If you're just reading me for the first time, you may not know, but I HATE that gimmicky, phony trend that is so popular among female artists today.
Joey's Final Judgment: She's Top 24
Katherine Winston, "Rhiannon." OK, I love Fleetwood Mac, so I did enjoy that she chose a song written by Stevie Nicks. But it was definitely not her best performance. I mean it wasn't a bad performance, but she's been better and I wouldn't call this one Top 24-worthy.
Katherine's Final Judgment: She's Top 24
Maddy Hudson, "Diamonds." Yikes. That didn't sound good. We didn't get to hear a lot (I'm guessing because it was that bad), so it was no surprise her outcome was what it was.
Maddy's Final Judgement: She's out.
Alexis Gomez, "Better Dig Two." This was a solid performance and she took a risk by sining in Spanish. And that risk took off. Again, we didn't get to see much
Alexis' Final Judgement: She's Top 24
Quentin Alexander, "Youth." That was a tight solid performance. It wasn't exactly entertaining from what little we saw of it, but it wasn't bad.
Quentin's Final Judgment: He's Top 24
Savion Wright, "I Don't Trust Myself." Savin is a natural talent. There's not much he could do wrong and this performance was no exception. He's a talented guy and I think him getting cut last season helped shape him for this season.
Savion's Final Judgment: He's Top 24
It's an elimination montage: Hunter Larsen and Jaq MacKenzie are both sent packing.
Mark Andrew, "Take Me To Church." I knew we'd hear this song this season. Just didn't think it would be this early. But don't worry, we will hear it again, I promise you. But anyway, let's get to the performance. I think it was a decent performance. I can't say anything bad about it, but I also wasn't jumping up and down.
Mark's Final Judgment: He's Top 24
Trevor Douglas, "Burnin Love." Well I normally like Trevor a lot more than this. I mean it wasn't horrible but it wasn't great. But then again, we didn't get to hear much of him. Was that shortened audition a bad sign?
Trevor's Final Judgement: He's Top 24
Emily Brooke, "Stupid Boy." I've liked Emily throughout the process so far, but this one just seemed really disconnected. Again, it was short and we didn't get to see much of it, but I can tell she has done a lot better than this one.
Emily's Final Judgment: She's going home
Nick Fradiani, "Drops of Jupiter." OK, that was even shorter, so I'll just say it wasn't that bad. And he just has a lot of star power.
Nick's Final Judgment: He's Top 24
Sarina-Joi Crowe, "Big White Room." Sarina is a total natural. That audition was so effortless and after four years of trying, her work finally paid off.
Sarina's Final Judgment: She's Top 24
Qaasim Middleton, "Satisfaction." I don't like this guy's singing style or his personal style or much else about him, but he is definitely a showman. I could see people enjoying his showmanship, but I'm not interested in watching him on American Idol every week.
Qaasim's Final Judgment: He's Top 24
Ricky Hendricks, "Don't Close Your Eyes." This performance was not that great and I don't even remember seeing him before now. He seems like he's very dedicated, but that just wasn't a good performance.
Ricky's Final Judgement: He's going home
Riley Bria, "Love the Pain." It wasn't his best performance, but it was still good. Riley is a natural and I can see him doing some great things on the show.
Riley's Final Judgement: He's Top 24
Jelly Joseph, "Bang Bang." Jelly knows how to command a stage and her vocals are very solid. She does have some nerves, but she's an entertainer and I'd put her through over Shi, who is about to grab the final spot.
Jelly's Judgment: She's going home
Shi Scott, "Higher Ground." I don't know what this performance was. It was a lot of shouting and and arrogance, but there's something about her this show loves. I don't get it, but maybe I will? Probably not.
Shi's Final Judgment: She's Top 24
So that's your entire Top 24, American Idol fans. What do you think of it? Who is going to stand out and grab enough votes to make the Season 14 Top 12?
American Idol 2015 Showcase Week Part 2 Photo Gallery