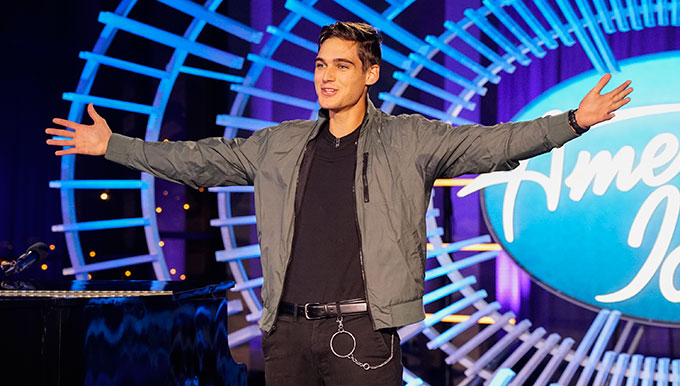 American Idol 2020 is less than a full month away and the Season 18 (or Season 3 on ABC) spoilers are finally starting to roll in.
Trusty Idol website The Idol Pad has revealed a RUMORED list of the American Idol 2020 Top 40. And there are some familiar faces in the mix, as you might expect. Let's take a look, and thanks to TIP for sharing the info on their Website.
American Idol 2020 Top 40
Females
Aliana Jester
Amber Fiedler
Amelia Joyce
Cyniah Elise
DemiRae "Demi" Moreno
Emma Valentine
Faith Becnel
Geena Fontanella
Genavieve Linkowski (AI16 Hollywood Week)
Grace Leer (American Juniors Top 20)
Grace Lundy
Julia Gargano
Kimmy Gabriela
Lauren Mascitti
Lauren Spencer-Smith
Makayla Brownlee
Makayla Phillips (America's Got Talent Season 13 Top 22)
Natalie Jane
Olivia Ximines
Perrin York
Samantha "Sam" Diaz (A.K.A. Just Sam)
Shannon Gibbons
Sophia Wackerman
Males
Bilaal Avaz
Cameron Havens
Devon Alexander
DeWayne Crocker, Jr. (B.E.T.'s Sunday Best: Race To The Stage Winner)
Dibesh Pokharel (A.K.A. Arthur Gunn)
Dillon James
Elyjuh René (The Voice U.S. Season 7 Top 20)
Francisco Martin
Franklin Boone
Jeb VonderBruegge
Jonny West
Jordan Jones
Jovin Webb
Louis "Louie" Knight
Nick Merico (Last Season Hollywood Week)
Rob Taylor (The Voice U.S. Season 8 Top 10)
Travis Finlay (Season 14 Hollywood Week)
And as you can see we've got a couple of AGT and The Voice contestants, but more importantly, some past Idol contenders, including Genavieve Linkowski, Travis Finlay and Nick Merico. Margie and Nick were definite standouts last season and a lot of people were shocked they didn't make it further than they did. So I wouldn't be surprised if both of them go farther this time around.
What do you think of the rumored Top 40?  If show, be sure to share your info in our comments section.
Also, be sure to head back here leading up to the February 16 premiere of American Idol 2020 for all of our pre-season coverage. And of course we will begin our regular recaps on premiere night, so you can stay with us all season long. You can also follow us on Facebook and Twitter for reminders and updates!