American Idol stars Taylor Hicks and Clay Aiken will get the chance to finally sit in the judges seat on an upcoming episode of Law & Order: SVU on Nov. 6. The season 5 winner and season 2 runner-up will play themselves as judges on a fake reality TV competition called American Diva.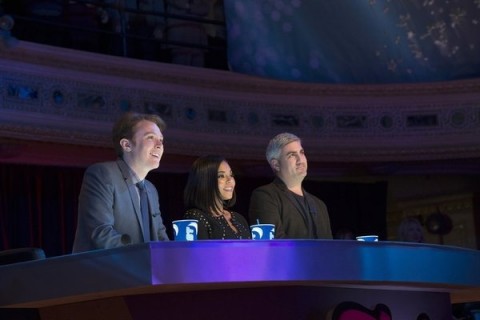 American Idol alumni Clay Aiken and Taylor Hicks will be joined at the judges table on Law & Order: SVU by singer Ashanti. The episode, titled "Dissonant Voices," will also feature Broadway star Billy Porter and The X Factor sensation Carly Rose Sonenclar. We believe 14-year-old Carly Rose, who plays a character named Grace Belsey, will be likely one of the 'victims' in the episode. Check out more photos from the episode below. (Click the pics for bigger versions!)
Here's the official synopsis of the episode:
A SINGING COACH AND POPULAR TV PERSONALITY IS ACCUSED OF SEXUAL ABUSE BY HIS STUDENTS Singing coach Jackie Walker (guest starring 2013 Tony Award-winner Billy Porter) is at the height of his career, with a featured role on television's biggest reality show, "American Diva," and a steady position teaching music at a prestigious New York City school. When a four year-old student comes forward with claims of sexual abuse, Detective Rollins (Kelli Giddish) asks the squad to be mindful of Walker's reputation, but Benson's (Mariska Hargitay) investigation uncovers evidence that condemns the popular personality.
As the case becomes public, more and more victims come forward, but Walker refuses to come clean. Also Starring Ice T (Detective Odafin Tutuola), Danny Pino (Detective Nick Amaro) and Raúl Esparza (ADA Rafael Barba). Also guest starring Jessica Phillips (ADA Pippa Cox), Hana Hayes (Brooke Allen), Kara Hayward (Rachel Burns), Carly Rose Sonenclar (Grace Belsey), David Pittu (Counselor Linus Tate) and Bill Irwin (Dr. Lindstrom).
As MJsBigBlog notes, this sounds a lot like a 'ripped from the headlines' take on the alleged child abuse of late UK television presenter Jimmy Saville. His reported crimes were not uncovered until after he died in 2011.
Law & Order: Special Victims Unit "Dissonant Voices" will air on November 6 at 8PM ET.