This is just one of those stories that makes you feel all warm and fuzzy inside. How awesome must it be to realize that the music you make could inspire someone so much that you literally change their life? We hope former American Idol contestant Jason Castro is feeling pretty awesome knowing he moved a double amputee Army veteran to not just live after a terrible tragedy, but to go after his dreams.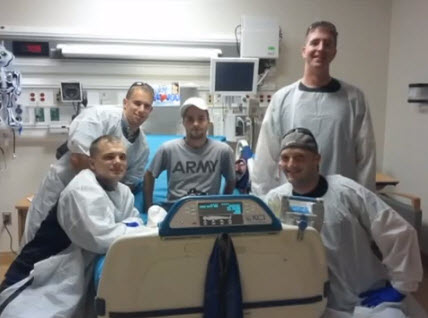 Army Specialist Justin Lane lost both of his legs to an IED in Afghanistan. When he came back home to the U.S., he was lost and didn't know how to go on. "I was in depression and was wondering what I was going to do with my life," Lane said, according to CBS 7. Then Lane heard American Idol alum Jason Castro singing "Only A Mountain" on the radio and it struck him hard.
"I heard Jason's song 'Only A Mountain' on the radio, and I knew God was talking to me," Lane said. He felt like God was telling him that everything was going to be okay. The music inspired him to pursue his own dream of being a singer and gave him something to live for. Lane posted his own cover of Castro's "Only A Mountain" on YouTube and it blew up. The Army vet went on to perform at the presidential inauguration and even got the chance to sing with Jason Castro himself.

The former American Idol contestant was incredibly moved by Lane's story and honored to have helped to inspire him to go for his dream. "I write songs and hope they can do something," Castro said, "but you never know the full extent of what they can do." J. P. Lane is still making music, which you can check out on his site here, and hopes to inspire others the same way Castro inspired him.
Source: CBS 7