American Idol may be over, but it's stars continue to shine in the music industry! Former American Idol winner Carrie Underwood and fan favorite finalist Adam Lambert were both nominated for the 2016 CMT Music Awards. Former American Idol judge Keith Urban also scored a nomination as well.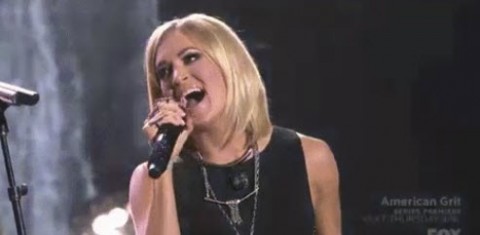 The CMT Music Awards hands out trophies in fan-voted categories for country music television performances and music videos. Fans can vote for their favorite nominees to win online at CMT.com. The ceremony takes place each year in Nashville, TN and will be broadcast live on June 8, 2016. Fan voting for the winners continues until June 6.
American Idol winner and country superstar Carrie Underwood was nominated in three different categories: Performance of the Year, Female Video of the Year, and Video of the Year — all for the song "Smoke Break." Adam Lambert was nominated in the Performance of the Year category for his duet appearance with Leona Lewis singing "Girl Crush" from the CMT Artists of the Year show.
Former American Idol judge Keith Urban was nominated for both Male Video of the Year and Video of the Year for "John Cougar, John Deer, John 3:16."
Check out the full list of nominations below:
VIDEO OF THE YEAR
Blake Shelton – "Sangria"
Cam – "Burning House"
Carrie Underwood – "Smoke Break"
Chris Stapleton – "Fire Away"
Florida Georgia Line – "Sippin' On Fire"
Jason Aldean – "Tonight Looks Good On You"
Keith Urban – "John Cougar, John Deere, John 3:16"
Little Big Town – "Girl Crush"
Luke Bryan – "Strip It Down"
Sam Hunt – "Break Up In A Small Town"0
Thomas Rhett – "Die A Happy Man"
Tim McGraw – "Humble and Kind"
MALE VIDEO OF THE YEAR
Blake Shelton – "Sangria"
Eric Church – "Like A Wrecking Ball" (From 2015 CMT Music Awards)
Keith Urban – "John Cougar, John Deere, John 3:16"
Luke Bryan – "Kick The Dust Up" (From 2015 CMT Music Awards)
Sam Hunt – "Break Up In A Small Town"
Thomas Rhett – "Die A Happy Man"
FEMALE VIDEO OF THE YEAR
Cam – "Burning House"
Carrie Underwood – "Smoke Break"
Jana Kramer – "I Got The Boy"
Kacey Musgraves – "Biscuits"
Kelsea Ballerini – "Dibs"
Maren Morris – "My Church"
GROUP/DUO VIDEO OF THE YEAR
Brothers Osborne – "Stay A Little Longer"
Dan + Shay – "Nothin' Like You"
Florida Georgia Line – "Sippin' On Fire"
Little Big Town – "Girl Crush"
Old Dominion – "Break Up With Him"
Zac Brown Band – "Loving You Easy"
BREAKTHROUGH VIDEO OF THE YEAR
Brothers Osborne – "Stay A Little Longer"
Cam – "Burning House"
Chris Janson – "Buy Me A Boat"
Chris Stapleton – "Fire Away"
Maren Morris – "My Church"
Old Dominion – "Break Up With Him"
CMT PERFORMANCE OF THE YEAR
Adam Lambert and Leona Lewis – "Girl Crush" (From 2015 CMT Artists of The Year)
Brantley Gilbert and Lynyrd Skynyrd – "What's Your Name" (From CMT Crossroads)
Carrie Underwood – "Smoke Break" (From CMT Instant Jam)
Cheap Trick and Jennifer Nettles – "I Want You To Want Me" (From CMT Crossroads)
Chris Stapleton – "Nobody To Blame" (From CMT Artists of the Year)
Darius Rucker – "Alright"(From CMT Instant Jam)