American Idol 2016 Top 24 contestant Lee Jean Jr. was rendered speechless when he found out he would be paired with former American Idol contestant Chris Daughtry for a duet Thursday night. We think the two of them together sounded absolutely fabulous on Daughtry's hit single "Home."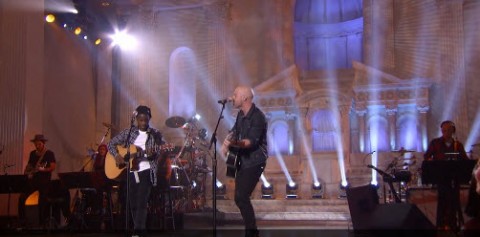 The American Idol judges also seemed to love the performance. Jennifer Lopez was rendered speechless herself, and Harry Connick Jr. said Lee Jean Jr. was strong and captivating. Keith Urban told the young singer that he brought a storyteller quality to the song that made it sound fresh and new.
Singing a @CHRIS_Daughtry song WITH the man himself is challenging, but @LeeJeanJr just NAILED it! #IdolDuetshttps://t.co/dpNKtCyKLX

— American Idol (@AmericanIdol) February 19, 2016
Check out the Lee Jean Jr. Top 24 profile page for more information on this talented young singer. Find out what's coming next on season 15 on our American Idol spoilers page!