Former American Idol runner-up Adam Lambert returns to Glee this Thursday night on November 18 at 9PM! We have a hilarious sneak peek of his "Puppet Master" muppet featured on this week's episode that you just can't miss. Oh yes, Glee has made the cast and guest stars Adam Lambert and Demi Lovato into muppets. If you haven't seen them yet, these things are freaking cute as heck. We are particularly fond of how very authentic they have managed to get Adam Lambert's hair…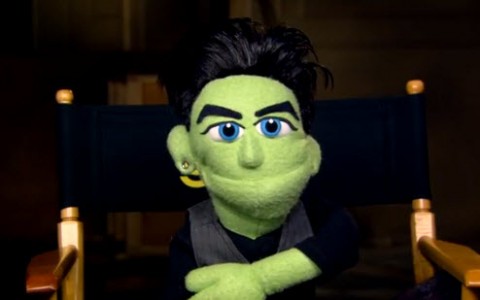 On Glee season 5 this week, Adam Lambert will reprise his role of Eliott "Starchild" Gilbert, one of the members of Kurt's (Chris Colfer) new band. As part of the episode, everyone in the McKinley High glee club and in New York ends up with a puppet version of themselves. Some of these puppets are so adorable, we can't even stand them.
Here's the official Glee season 5 episode 7 synopsis for this week and some awesome spoilers photos:
Blaine believes he has the best plan to win Nationals, but he doesn't take the glee club's criticism too well when the students accuse him of being too controlling. Over in New York, Kurt also runs into control issues when the band disagrees over the venue of their first official gig that Kurt booked. Meanwhile, Sue reveals the story behind her iconic tracksuit and gets in touch with her feminine side.
(Click the thumbnails for bigger pics – Source: FOX)
By the way, if you haven't heard yet, there are major changes to the Glee schedule ahead after the holidays, so be sure to read up on what's happening so you don't miss any future episodes!