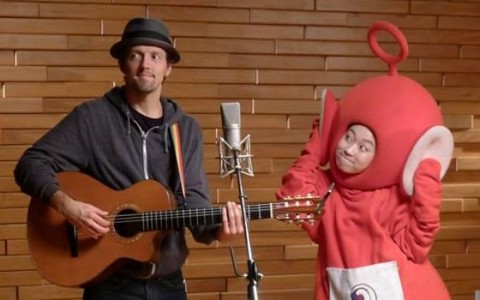 Jason Mraz is set to arrive tonight on American Idol 2014 as this week's mentor to help along the Season 13's Top 5 contestants. He'll guide them through their song selections as they take America's suggestions and deliver on what viewers want to hear.
FOX Audio Central caught up with Jason and talked with him about the experience and what he tried to pass along to the Top 5.
Jason explained how he wants to help the finalists:
Well, I don't want to change anything about them.  I guess what I'm looking for are those moments when they really put their heart into it.  Not their minds so much, but they get out of their head and they just wail.  That's what I'm looking for.  And so if I changed anything, it would just be get out of your head and just let the song guide you.
Mraz wanted to help each of the finalists achieve what the Judges call for each week: "creating the moment."
You can create a moment.  You can set an intention to create a moment, certainly.  And, what you might be surprised with is other moments will occur around that moment that you intended.  Or, the moment will be a completely different moment than you thought, but it will be a moment nonetheless.  So, the best way to do that is to put your real life into the lyric.
We can't wait to see how Jason helps the final five as they prepare to take the stage tonight on Idol. Wanna know what they'll be performing? We've got the Top 5 song spoilers list here.
Source: FOX Audio Central
Image source: Twitter