The American Idol judges were obviously torn about not using the save on Top 10 finalist MK Nobilette when she was eliminated by the voters. Jennifer Lopez was distraught during MK's 'save' performance and actually broke into tears. Sadly, the save was not used and MK Nobilette was sent home.
In a post-elimination interview with Synergistic Productions, MK said she "sang with my heart" during her final performance on the show. "If I was going to go, I wasn't going to go without a bang. I was going to go, and I was going to show everyone that I am capable of doing this, and when this is all over, I will be continuing to do it. Give people a reason to want to come to one of my shows."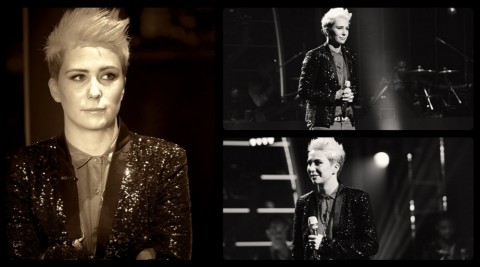 In the interview video above, MK reveals that she actually had two other songs in mind to sing for the American Idol 2014 Top 10 performances show before settling on "Perfect" by Pink. She also talks about the big mistake in her performance that may have contributed to her elimination, and gives a shout out to all the fans who supported her this season.
Although she has been eliminated from American Idol 2014, MK Nobilette will get to go on the live tour later this year. So the legion of fans that helped her get all the way to the Top 10 will have the opportunity to see her in action this summer.
>> More: MK Nobilette: American Idol 2014 Finalist Says Goodbye [VIDEOS]
Source: Interview courtesy of Synergistic Productions