MK Nobilette, who also goes by the name of EmKay Nobilette or Emkay Brazil, was a bit of an enigma in the ranks of American Idol 2014  finalists.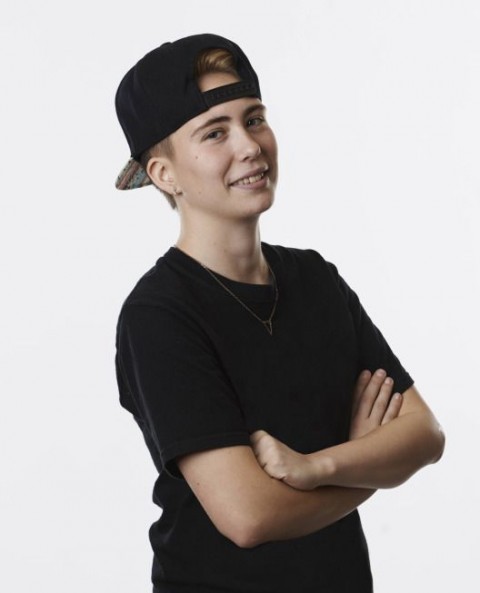 Twitter | YouTube | Fan Page | Idol Fan Page
And we're not talking about the mystery of what she insisted on wearing a backwards ballcap for almost every single performance until she hit the Top 11, despite her fans begging her to please stop with the hat already!
On the one hand, MK has tremendous talent and a vibrant personality off stage. She was even brave enough to come out on national television! And in the videos we saw of her before the season began, she had one of the best voices we heard from most of the hopefuls this season.
However,  although MK made it all the way to the Top 10 finalists on season 13, she still never seems to have been able to shake her obvious nerves and lack of confidence on stage and live up to her full potential.
MK Nobilette American Idol Performances
Season 13 Audition: (at approx. 8:38 mark)
Road to Hollywood:
Hollywood Week Group Performance (at approx. 0:26 mark)
Hollywood Week Final Judgement
Top 31 This Is Real Profile:
Semifinals Rush Week:
Top 13 Interview:
Top 13 Performance:
Top 12 Performance:
Top 11 Audition For MK Nobilette:
Top 11 Performance:
Top 10 Performance:
Top 10 Results:
MK's American Idol Journey:
MK Nobilette Background
In her Road to Hollywood video, MK says she auditioned for American Idol because her aunt persuaded her to try out. She says her family really wanted her to do it, so it is kind of cool she gets to do it for them. MK actually says her first musical inspiration was The Little Mermaid, because "she's awesome, fantastic, she's my idol."
One of the main sources of background info we came across for American Idol season 13 contestant MK Nobilette, a.k.a. Emkay Brazil, was actually her and her girlfriend's Instagram accounts. (MK's has since been set to private.)
Actually, Casey Ellis calls MK her "wife" on her Instagram feed and Twitter, but they don't actually appear to be married in the legal sense. MK also uses the tern "wife" for Casey Ellis on her Instagram feed as well.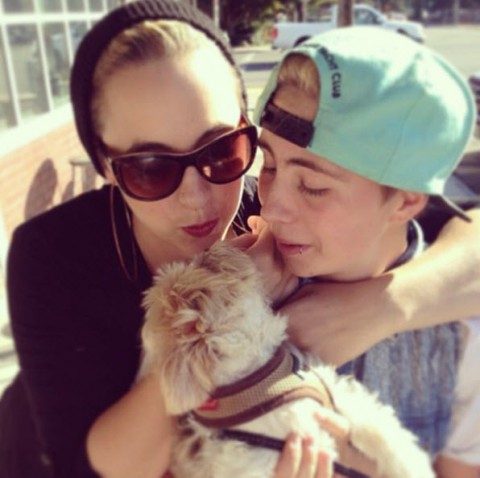 Casey said in the caption to a recent photo that she is "way too obsessed with my girlfriend and it's actually getting out of hand." From the amount of absolutely adorable photos of them on her feed, we'd say that might be a bit true. Also, it appears at least one of them is fan of Willow and Tara from Buffy the Vampire Slayer. We approve.
Another tidbit we found? Casey REALLY wants to be properly married and have babies with M. K. as soon as possible, writing in one photo caption: "Work. Can't I just be a mother already?! #sosoickofnotbeingpregnant #sosickofnotadoptingbabies #sosickofnotbeingmarriedto @emkay_brazil by now." My my!
Other than her girlfriend's obvious adoration for her, we weren't able to uncover much else about M. K. Nobilette so far since she either doesn't have or has deleted a Facebook account, her personal Twitter account is now MIA, and not much else is out there about her on the Net. We did, however, manage to dig up some videos of her on YouTube, which we've posted a few of here.
One of the videos we came across features Emkay singing a cover of "Rolling in the Deep" by Adele with a group at a Ruth Asawa San Francisco School of the Arts performance final. We are going to tentatively guess from this that she is a graduate of the program.
M. K. also had a Vine account, where she has posted some… interesting video clips. Let's just say she had some recreational activities that are currently only legal in two states. Also, she apparently leaves the bathroom door open. Yeah, enough said.
The Vine account has since been removed, which honestly probably isn't a bad thing… some things that might be hilarious to you and your friends, might not be so much to strangers you hope will be voting for you!