A speeding motorcyclist who violently crashed into former American Idol contestant Sikenya Thompson during a parade in June has been charged with felony reckless driving. A video shown in court on Thursday shows the 42-year-old motorcycle driver slamming into Thompson, who was thrown into the air before impacting hard on the ground.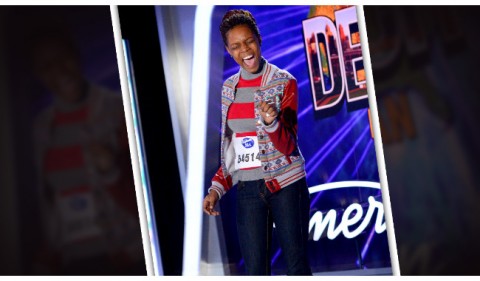 Sikenya Thompson, 20, auditioned for American Idol last year in Detroit and won a Golden Ticket to Hollywood. She made it through the dreaded group rounds, but came down sick with a fever and cold and almost left the competition. She decided to stay and perform in the Hollywood Week final solo round despite being ill, but didn't make it through to the next round.
After American Idol, Thompson continued to perform as an aspiring dancer, singer, and model. In June, she was dancing with the group "Daniels Angels" in a parade in Saginaw, Missouri when she was struck by a speeding motorcyclist. The horrifying moment was captured on video by an 11-year-old parade watcher.
*** WARNING: GRAPHIC VIDEO CONTENT ***
The motorcyclist, 42-year-old Lavanis Gray, has been charged with reckless driving causing serious impairment of a body function and is currently on trial. The video of the accident was released as part of the courtroom evidence presented in the case.
As a result of the accident, Sikenya Thompson was thrown violently into the air and suffered multiple injuries. She had severe gashes on her legs and face, as well as broken ribs and a chipped tooth. Thompson spent five days in the hospital and still walks with a limp as a result of the crash, according to mLive.com.
"It's hard for me to look at myself now, because I feel like I lost confidence in myself," Thompson said in her court testimony. "The only thing I do is cover up now… Even though it looks like I'm okay, I"m not okay."
Gray's attorney has presented the argument that his client's motorcycle malfunctioned and the clutch on the vehicle stuck, causing it to speed out of control. He was also injured in the accident, with cuts to his head and body. He is currently out on bail while the trial against him proceeds. Prior to the accident, he was on probation for felony gun possession.