The original American Idol, Kelly Clarkson, broke down in tears on stage Wednesday night when she suddenly announced to the crowd that she is pregnant again! Kelly Clarkson and husband Brandon Blackstock already have one beautiful child together, 14 month old daughter River Rose. Now they'll be adding a little brother or sister to the family!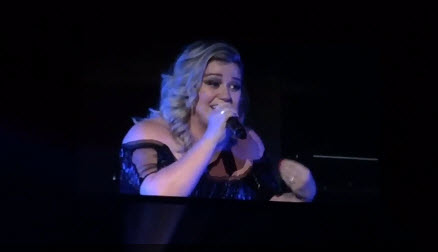 Kelly Clarkson was on stage at the Staples Center in Los Angeles on Wednesday evening when she abruptly spilled the news of her second pregnancy. She had been introducing her song"Piece by Piece," which she wrote about her father, when she started leaking tears down her face. Unable to hold back her emotions, Kelly gave the Los Angeles crowd a very unexpected gift — they would be the first to know she had another baby on the way!
"I was not planning on announcing this, but … I'm totally pregnant. I'm having a really hard time," Kelly told a cheering mass of fans with a huge grin. Kelly joked that she had to tell them because she was having such trouble introducing the song without crying, and she didn't want the audience "to think I'm on pills or drunk."
We reported back in June that Kelly said she is so happy being a mom that she just couldn't wait to have another baby. She had planned on working on having another baby "after" her current tour ended, but apparently she got an early start!
"I'd like to apologize to my husband," Kelly continued in her announcement to the crowd at the Staples Center. "That was not planned. I just didn't want you to think I was crazy or something. Honestly, I'm just so hormonal today. … I haven't vomited yet. That is a freakin' win, y'all."
The American Idol winner said in an interview at Capital FM's Summertime Ball in London that she wanted her kids to be "close together because the other two are kind of close together, my stepkids." Kelly's husband, Brandon Blackstock, has two children from a previous marriage that Kelly has grown very close with.
Kelly Clarkson and baby River Rose photo gallery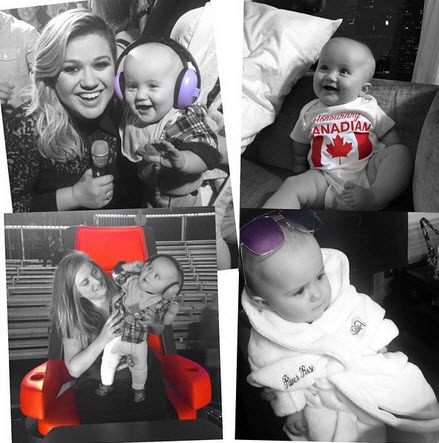 Kelly Clarkson and baby River Rose (Instagram)