Nick Fradiani won his way to Hollywood with his girlfriend Yanni G at his side during the Idol auditions in New York. And after the American Idol Showcase round Nick won his way into the Season 14 Top 24 round.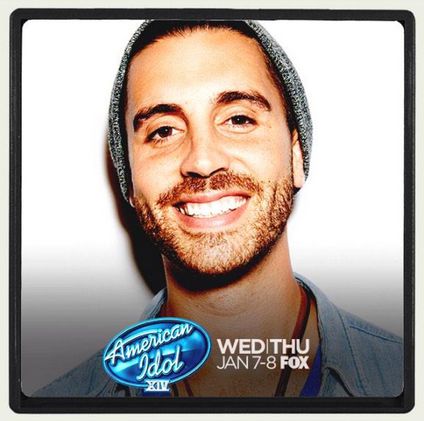 Nick Fradiani, Jr.
–
Facebook
–
Twitter
–
YouTube
– Photo: FOX
Nick isn't a stranger to the singing competition television domain either. His band, Beach Avenue, was part of this past summer's America's Got Talent but American Idol could be his second chance at winning big and growing the audience for his music.
His band got together in 2011 when they won a Battle of the Bands concert and have continued on opening for bands like Third Eye Blind, STYX, and The Alternate Routes. Now as Nick Fradiani heads in to the American Idol season playing solo we'll get to see what he can offer on his own in the live shows.
click images to see full-size views
Beach Avenue & Nick Fradiani performs on AGT:

Nick has a lot of music available through his Beach Avenue's YouTube channel if you want to get caught up on his sound and be ready for when we see more of Fradiani on American Idol 2015.
Beach Avenue: Coming Your Way

Nick Fradiani auditions for American Idol 2015
Nick Fradiani performs during American Idol 2015 Showcase Week
Nick Fradiani on his House of Blues performance
"Performing at the House of Blues was definitely a crazy experience. You know, you look around and see pictures of Stevie Ray Vaughan and all these insane musicians and it'll freak you out if you really think of it. And it was cool just too finally play in front of a live audience, because, before, we were singing for each other and the judges. And that was really it. And it was good to see how people reacted to having an actual crowd in front of them."