We were heartbroken to learn of the passing of epic funnyman Robin Williams on Monday. We can't even imagine the idea of Robin Williams dead. All those years of laughter, joy, and kindness over in one tragic instant. Our thoughts and prayers go out to his family.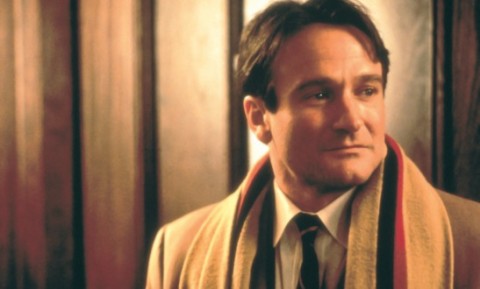 We couldn't help but remember way back in 2008 when Robin Williams appeared as part of the now-defunct Idol Gives Back event. Original American Idol judges Simon Cowell, Paula Abdul, and Randy Jackson were still behind the table. Robin guested on the show as the character of 'Russian Idol' Ivan 'Bob' Poppanoff. Probably the funniest moment ever on the show besides Stephen Tyler auditioning in drag.
American Idol judges and contestants added their voices to the collective mourning on Twitter of Robin Williams' death of an apparent suicide. The man who brought so many of us moments of joy and laughter, even in the darkest of times, left us at the end in tears.
Unreal about Robin Williams. Such an amazing actor. Got to meet him one time. Very nice man. Prayers are with his family and friends.

— Phillip Phillips (@Phillips) August 11, 2014
Shocked, heartbroken. R.I.P. Robin. Thank you for the laughter and the tears. I'm sure we'll hear the laughter rolling around Heaven tonight

— Nigel Lythgoe (@dizzyfeet) August 11, 2014
The real sadness is, that he was a man that gave so much happiness to other people but couldn't find it in himself! #RestNowRobin

— Nigel Lythgoe (@dizzyfeet) August 12, 2014
This news hit me really hard and makes you realise that any life lost is a tragedy.

— Simon Cowell (@SimonCowell) August 12, 2014
Devastating finding out about @robinwilliams today. He was an amazing talent and incredibly sweet. So sad.

— Kelly Clarkson (@kelly_clarkson) August 11, 2014
It hurts to smile. My heart & soul go out to your family & friends. I'll never forget how you've inspired me all my life. RIP @robinwilliams

— James Durbin (@DurbinRock) August 12, 2014
Oh Captain, My Captain

— James Durbin (@DurbinRock) August 12, 2014
"That the powerful play goes on. And you may contribute a verse. What will your verse be?"

— James Durbin (@DurbinRock) August 12, 2014