American Idol 2014 winner Caleb Johnson may be about to break a record, but it's not one he's going to want to brag about. According to the latest predictions, Caleb's debut album Testify may end up having the lowest sales of any American Idol winner's album in the history of the show.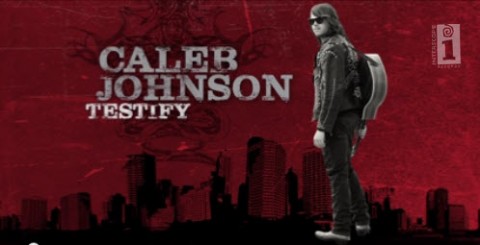 Caleb Johnson's new album from Universal Music Group dropped on August 12 and so far sales have been terrible. Apparently the strategy of pushing out the album faster than any other American Idol winner's debut CD ever didn't help sales at all.
Hits Daily Double predictions show that Testify may set the lowest sales record for any American Idol winner's post-win album. So far Caleb's debut is only on track to sell between 9k and 11k copies nationwide in its first week. Compare that to the abysmal sales for previous winner Candice Glover's album, which only sold 19k the first week out. That album was considered to be a huge bomb, so Caleb's debut landing even less sales is pretty sad.
Honestly, we can't say we are terribly shocked. American Idol ratings have dropped through the floor the past few years. Less people are watching, and less people are buying. Also, Caleb's fans may have propelled him to win with the new limited voting system, but they were an older crowd that is less likely to buy music for their iPods, phones, etc. The same was true with Candice's followers.
We also have to admit we weren't terribly impressed with Caleb's album once we heard the whole thing. Something about Caleb live in action just doesn't translate so well to a recorded album. Especially when the CD just seems to be missing a lot of the wild and crazy hard rock vibe that Caleb gave us on the show.
Plus, August isn't really the best time to release an album. The numbers show that music released in Spring and Fall, or right before the Christmas season, traditionally do a lot better.
Maybe we should just call this one a wash and let Caleb free to do his own thing on his next album and see if that turns out better.
Curious to know what the first week sales have been for previous American Idol winners? Check out the list below as posted by MJsBigBlog:
Kelly Clarkson – Thankful – April 15 2003 –  #1 – 297K
Ruben Studdard – Soulful – December 3 2003 – #1 – 417K
Fantasia Barrino – Free Yourself – November 23 2004 – #8 – 240K
Carrie Underwood – Some Hearts – November 15 2005 – #2 – 315K
Taylor Hicks – Taylor Hicks – December 12 2006 – #2 – 298K
Jordin Sparks – Jordin Sparks – November 20 2007 – #10 – 119K
David Cook – David Cook – November 18 2008 – #3 – 280K
Kris Allen – Kris Allen – November 17 2009 – #11 – 80K
Lee DeWyze – Live it Up – November 16 2010 – #19 – 39K
Scotty McCreery – Clear as Day – October 4 2011 – #1 – 197K
Phillip Phillips – TWFTSOTM – November 19 2012- #4 – 169K
Candice Glover – Music Speaks – February 18 2014 – #14 – 19K