Reports differ, but according to our American Idol spoilers source, Tion Phipps has become part of the Season 14 Top 24 semifinalists after surviving eliminations in Hollywood.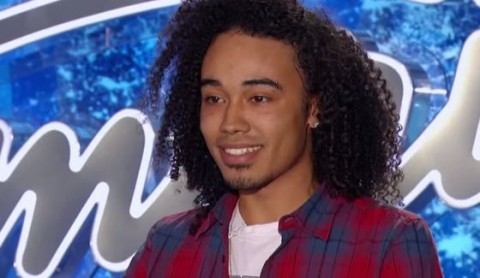 Tion Phipps: Website, Facebook, Twitter, YouTube – Photo: Twitter
Tion Phipps is a self-employed musician from Madisonville, KY where he traveled from to attend the New York auditions in pursuit of a Golden Ticket. Well, that and a date with Jennifer Lopez. Following his performance of Bruno Mars' "When I Was Your Man" he left with just the Ticket, but that's a good compromise for the ambitious Don Juan.
When it came time for the Judges' decision there wasn't even a need for a vote as Jennifer Lopez asked if she "should just take care of this" and handed Tion a Golden Ticket. Next stop: Hollywood and allegedly well beyond.
Until the rest of his performances hit the air we can catch up on his musical talents through his YouTube channel which offers numerous well polished music videos like "Ex-Girl":
We'll post more videos and updates on how far does Tion Phipps go on American Idol 2015 as the season continues, but for now keep up with our spoilers and coverage for all the latest Idol news!