When we saw this video of adorable 3-year-old Carter Brinton covering Phillip Phillips, complete with an epic guitar jam, we couldn't resist sharing! We are big fans of the former American Idol winner, but little Carter may be Phillip Phillips' biggest fan there is.
According to Carter's mom, the toddler loves Phillip Phillips so much, he's memorized the words to a bunch of his songs and gives daily concerts in their living room.
"He sings on his stage, which is really just my coffee table," Carter's mom, Mindy Brinton of Lakeland, Fla., told GoodMorningAmerica.com.
How exactly did Carter become such a big fan of the "Gone, Gone, Gone" singer? Well, according to mom, it was all about whatever would keep him from happy while mom was away at work.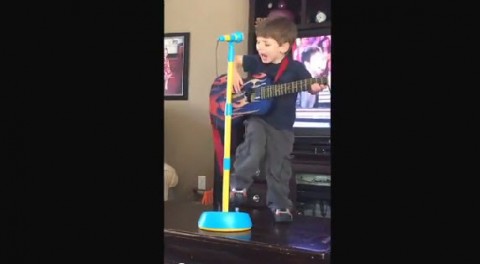 "I work weekend nights, I'm a nurse, and my husband would be home with the kids and he noticed whenever the song 'Home' came on, he'd suddenly stop fussing," Carter's mom said.
While American Idol probably won't still be around by the time Carter would be old enough to audition, mom thinks he certainly has a career in music ahead of him.  "He is a seasoned performer," Brinton said. "He's shown an interest in doing that since he was 18 months old."