The Top 8 contestants are back on American Idol 2014 this week after the Judges used their Save to bring Sam Woolf back from the brink of elimination. Now they're going back to the 80's for your votes.
*UPDATE* – Watch the American Idol Top 8 performances in our full recap of Wednesday night's show!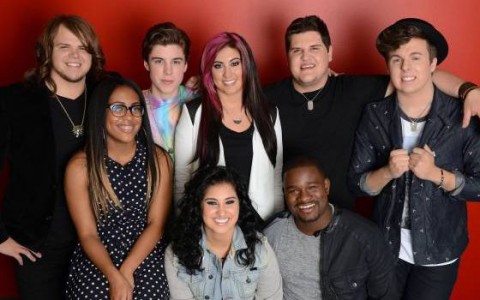 Starting the Idol week off on Wednesday night at 8PM we'll get all new performances from the Top 8 within the 80's theme which is sure to be fun cause who doesn't like some 80's hits? Of course many of these contestants weren't even born in the 80's which is making me feel none too young right now!
Then on Thursday night we'll be back at the new time and shorter show duration when the American Idol results show kicks off at 9PM ET with our 30-minute live blog of the whole show. Now that the Save is used up there are no more second chances.
Can't wait to see who pulls out the big performance this week now that the safety net is gone and it's all or nothing for these American Idol finalists!
Be sure to join us on Facebook & Twitter for the latest Idol updates!
We're getting closer to discovering which finalist will become the next American Idol! Who do you think it will be?