Adam Lambert fans, set your DVRs. The American Idol runner-up is going to appear on FOX's Glee in an upcoming episode on November 7th.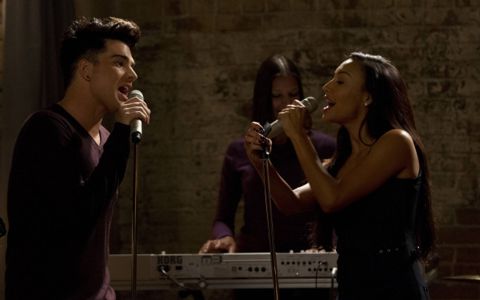 Adam Lambert becomes part of the story when he auditions for a Madonna cover band including the series regulars Kurt, Rachel, Santana, and Demi Lovato's Dani. EW.com reports on Adam's role:
Lambert's New Jersey-native character will audition for a new band put together by Kurt, but, he teases, it's not love at first sight. "As far as the character goes, at first Kurt and Starchild don't quite click, but then they click," he teases. "It's definitely a work in progress."
Rumor is Adam's audition for the band goes a little overboard and those theatrics might just cost him a spot on the band.
Check out pictures of Adam's role and performance on the set of Glee in the images below.
Click images to see Full-size
Adam might not have ended up as one of the American Idol 2014 judges, but this will get him back on FOX TV. Will you be watching Adam's return to TV with his appearance and performance on Glee?
Update: More pics added on that we found today from the set.
Click images to see Full-size