Newlywed Kelly Clarkson just got married to gorgeous husband Brandon Blackstock but she's already thinking about babies! If she had her Christmas wish, "Kelly Clarkson pregnant!" would be a headline before the new year rolls around. Kelly says her new role as a stepmom to Brandon's two children from a previous marriage, Seth and Savannah, has her wanting a baby of her own — pronto!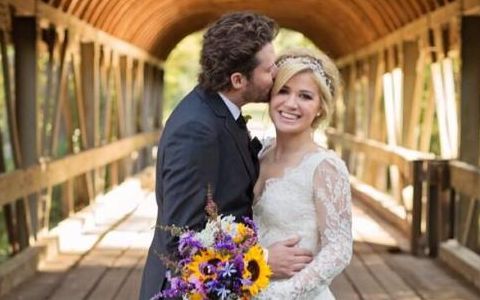 "Everybody keeps saying, 'What do you want for Christmas?' And I'm like, 'I want to be pregnant.' I want babies, yep! I do," Kelly Clarkson told radio host Sean Valentine in an interview. Currently doing the rounds to promote her new Christmas album, Wrapped in Red, Kelly talked on Valentine In The Morning about how being a stepmom has changed her perspective.
"I honestly never ever used to want to want kids because I'm kind of selfish with my career," Kelly said. "But going to to soccer games with Seth and doing homework with Savannah — I just really love it y'all."
Kelly added that husband Brandon is more than happy to help out with making her Christmas wish come true. She said "he's excited about all the practice!"
We think Kelly and Brandon make such a delightful couple and we can't wait to see how adorable their kids are going to be! Check out photos from Kelly's gorgeous country wedding over here — don't you agree?