Pregnant Amber Holcomb is looking about ready to pop! The American Idol season 12 finalist has been posting photos of herself and her growing baby bump on Instagram and they are so cute! Amber, 19, announced she was pregnant back in August on Facebook when she posted a sonogram photo. Although she still isn't due for a while yet, Amber's baby bump is looking fierce, just like her!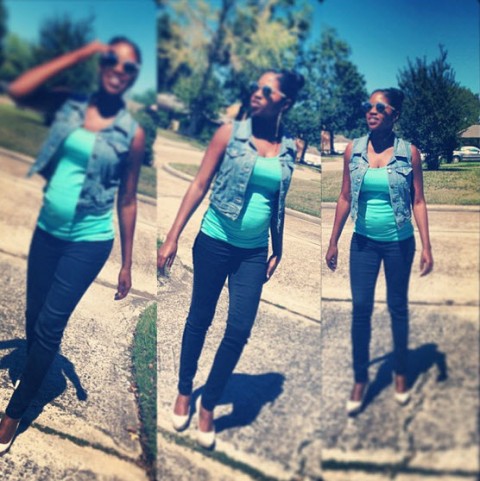 When Amber Holcomb announced she was expecting with baby daddy Lamar D. Denson, she faced a lot of harsh criticism for having an unplanned pregnancy at such a young age. The American Idol singer was quick to respond by posting on Facebook that she is happy and that is all that matters. "IN THE END ITS GONNA BE ME AND MY CHILD AND WHOEVER ELSE WANTS TO BE THERE FOR US. I DIDNT ASK FOR THIS BUT I CONSIDER IT A BLESSING," Amber said. "WHAT ANYBODY ELSE (INCLUDING YOURSELF) THINKS ABOUT ME IS NONE OF MY BUSINESS.
Fans were worried that the unexpected pregnancy might put a damper on Amber's dreams of being a star. She was touring with the American Idol Live Tour when she announced she was expecting. Her response to any worries about her pregnancy disrupting her musical career was very plain. "My career is not over. I have talent which will NEVER GO AWAY," she said.
By the way, Amber is up for suggestions for baby names! After confirming she is having a baby boy on Twitter, Amber sent a shout out to fans to let her know their opinion on what she should name him. Send Amber your baby boy name picks via Twitter to @AmberAI12.
Check out more adorable pics of Amber Holcomb and baby on the way below! (Click the thumbnails for bigger pics – Source: Instagram.)