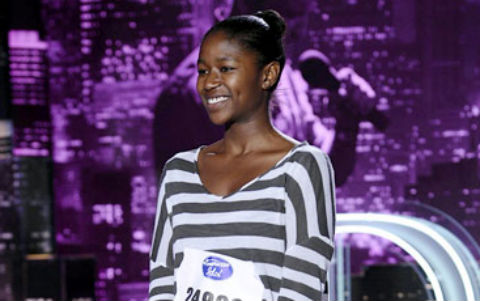 The American Idol 2013 Top 40 spoilers have been reported and were continuing our search to find out who our early competitors and potential Idol hopefuls might be this year. Here we've got Amber Holcomb, who is rumored to be one of the girls among the Top 40.
If the reports are true, this would be Amber's second run at American Idol. Last year she got her golden ticket during the Galveston, Texas auditions and made it to Hollywood week and the Las Vegas round before getting cut.
During her golden ticket interview last season, posted below, she says that she's had Idol dreams for a long time and that she has been inspired by Season 3 winner Fantasia.
Amber has several YouTube videos of herself singing under the username americanidolfuture, some as old as four years ago. So that means her Idol dreams have been going for quite some time. She's a great singer and could do well on the show. Do you remember Amber? What do you think of her? Does she have what it takes to be the next American Idol?
Remember these are just rumors. And even if the Top 40 rumors are true, that does not mean that they'll make to the live shows or any other format American Idol might be observing this year.