We think the true character of the American Idol 13 Top 10 finalists shows in those moments between the stressful performances and the smiles for the red carpet cameras. It is in the candid moments that you can see past the faces they put on for the show and glimpse what's underneath.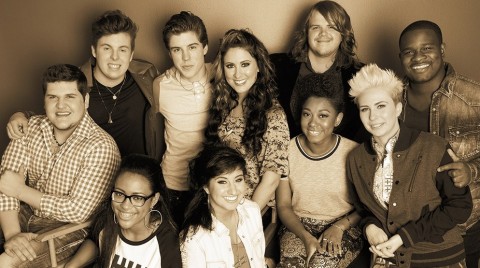 That's why we love this new set of American Idol 2014 Top 10 photos released by FOX. In these quiet moments while the finalists are waiting for what's next, you can see — in many of them — their serious side. We can find the determination to succeed in their faces, even when they are exhausted.
In these introspective candid shots, we can also imagine we see a bit of the real stress of what it means to be in a competition like this. In some faces, we ponder if we even see a little of their fear of what will happen next. In others, we see a momentary expression of the joy they must feel even through the nerves at making it so far.
This is the real American Idol. When you take away everything else, it's really about a group of young people desperate to make their dreams into a reality. Real people with real feelings, real hopes, real fears, and real talent they hope the world will embrace and appreciate.
Let's remember that tonight when we watch them take the stage.