Who do you want to be the 2014 American Idol winner? Have you picked out your favorite from the season 13 Top 10 finalists? We hope if you have that you are remembering to get in all of your votes every week, and showing your love out there on social media!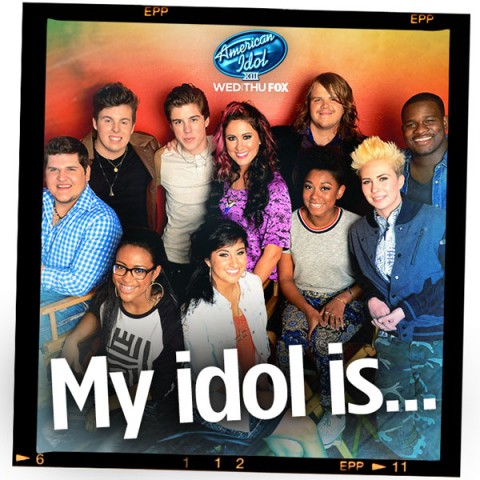 The more you vote and the more you promote for your American Idol season 13 Top 10 finalist, the more likely they are to make it to the finale. So if you really want to support your favorite contestant, don't just watch them every week on TV, get involved!
Click the pic of your American Idol Top 10 favorite below and then right click on the photo to download their "My Idol Is" badge to post on your Twitter, Facebook and other social media accounts! Show your support for your favorite finalist so they can hopefully become the next American Idol 2014 winner!
After you have your official "My Idol Is" badge for your favorite contestant to spread around, don't forget to go and show your support on your finalist's social media pages too!
Alex Preston Philbrick – Facebook | Twitter | YouTube | Fan Page | Idol Fan Page
Caleb Johnson – Facebook | Twitter | YouTube | Fan Page | Idol Fan Page
CJ Harris – Site | Facebook | Twitter | YouTube | Fan Page | Idol Page
Dexter Roberts – Facebook | Twitter | YouTube | Fan Page | Idol Fan Page
Jena Irene Ascuitto – Facebook | Twitter | YouTube | Fan Page | Idol Fan Page
Jessica Meuse – Site | Facebook | Twitter | YouTube | Fan Page | Idol Page
Majesty Rose York – Facebook | Twitter | YouTube | Fan Page | Idol Fan Page
Malaya Watson – Facebook | Twitter | YouTube | Fan Page | Idol Fan Page
MK Nobilette – Twitter | YouTube | Fan Page | Idol Fan Page
Sam Woolf – Site | Facebook | Twitter | YouTube | Fan Page | Idol Page