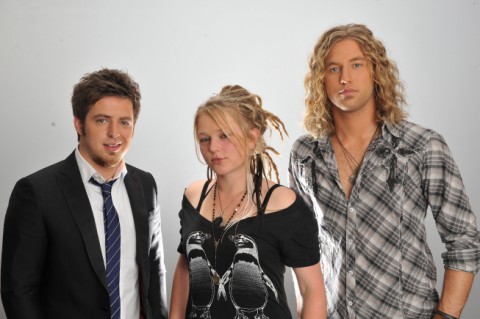 Our three finalists are back in their home towns today making good use of their time by being in parades, conducting interviews and singing in front of their locals.  So if you live close to Toledo, OH, Chicago, IL, or Dallas, TX go on out and see one of these Top 3 in their element with their hometown crowd behind them.
Crystal Bowersox will be in Toledo and will be in not one but two parades and give a 45 minute concert at Levis Square.  She will sing the national anthem and throw the first pitch at the Mud Hen game. 
Lee Dewyze will be in Chicago and will throw the first pitch at Wrigley Field for the Cub/Pirates game.  He will also be in a parade and perform a concert at Arlington Race Track at 6:30 pm.
Casey James is traveling back to Dallas where he will sing at several different places.  No parade is scheduled that I have seen.
All 3 finalists will receive their songs from the judges while at the AT&T store so we should know what they are singing before lunch and I will update as soon as I receive the information.
Will any of you be attending these events?  If so let us know and send us some behind the scenes pics that we could possibly put on the site.