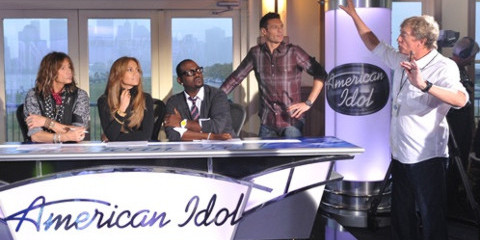 We've got another round of early spoilers for the upcoming season of American Idol. Joe's Place has pulled back the curtain on a new round of singing where the Top 40 will face off with some new choices:
The top 40 will be brought back to Hollywood for a round called "Sing For Your Life". What is unknown at this time is if this round will actually cut the top 40 down to a top 12, or 15, or 20.

What is known is that during this round contestants choose ONE song to sing. They can choose from the AI approved song list, pick another song, not on the list and hope that it gets approval, or they can sing AN ORIGINAL SONG.

The contestants can choose to sing it Acapella or with ONE Instrument.
Letting the American Idol hopefuls perform an original song is a much needed enhancement to the show. Of course we've got the return of musical instruments, but I don't think anyone really thought that'd be going away.
I can't wait to see how this new round plays out. What about you?